How to Pass the CIA Exam: A System for Success
HOW TO PASS THE CIA EXAM
The Gleim System for Success booklet is a free guide that answers all of your Frequently Asked Questions and helps you develop and implement a system for success for passing the CIA exam, which includes
Understanding the CIA exam process, including the exam's purpose, topic coverage, preparation methods, format, administration, grading, and pass rates
Learning and understanding the subject matter tested
Perfecting your question-answering techniques
Planning and practicing exam execution
Developing the confidence you need to succeed!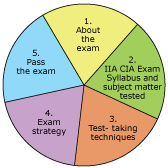 A System for Success is an essential part of the Gleim Premium Review System.

Log in to access
PDF version of
the booklet
HTML booklet, broken down by study unit
As Dr. Gleim advises, "Throughout your life, your greatest achievements result from a series of failures and successes. As you do better, you feel better. This generates a snowball effect that results in even better performance in everything you do."