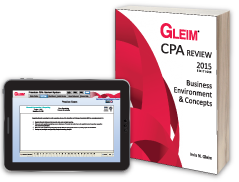 CPA Business (Book & Test Prep Online)
Irvin N. Gleim
Price:
$84.95
See Related Products
ISBN: 978-1-58194-271-2
Product Description:
The Gleim CPA Business Book & Test Prep Online are an integral component of the CPA Review System. Knowledge Transfer Outlines and actual CPA exam questions will improve your study process in an intuitive, interactive environment.
The Book/Test Prep Online Set – Business is designed to help you PASS the Business Environment and Concepts section of the CPA exam. Use the performance analysis feature in the Test Prep Online to learn which areas you need to improve on, and then study those areas using outlines in the book.
Make sure that your computer meets all the System Requirements:
Set Contents: