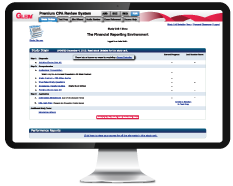 CPA Gleim Online-Business
Irvin N. Gleim
Price:
$169.95
Access Length:
18 months
See Related Products
ISBN: 978-1-58194-288-0
Product Description:
The multi-platform Gleim Online is an integral part of the Gleim Review System. When purchased as a part of the Gleim Review System, Gleim Guarantees Success on your first sitting.
Gleim Online is a self-study exam prep program delivered via the Internet that approaches review and testing from multiple directions. It will thoroughly prepare candidates to pass the CPA exam.
Product Features:
TESTING
1,800 Multiple-Choice and True/False Questions

Thorough answer explanations to cement understanding

20 extensive Written Communication Simulations

Simulations organized into 20 testlets (1 per study unit)
Includes AICPA-released multiple-choice questions and Simulations from prior years' CPA exams
Formatting and functionality emulates the actual exam
REVIEW
Comprehensive CPA Review book outlines

Real-world examples
Gleim Success Tips

Aligned with AICPA Content Specification Outlines
Audiovisuals for alternative presentation of material
SUPPORT
Access to a Gleim Personal Counselor
Detailed Performance Reports
Accessible feedback links for expert assistance
Test-taking and time-management tips from Dr. Gleim
18 months of unlimited access
Available online 24/7
Free updates
Use Gleim Online to ensure that you are prepared to succeed on the Multiple-Choice and Written Communication Simulation testlets on the CPA exam.