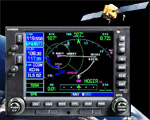 Garmin 530 Training Course
Irvin N. Gleim, Garrett W. Gleim
Price:
$99.95
Access Length:
12 months
See Related Products
ISBN: 978-1-58194-074-9
Description:
The Gleim Garmin 530 Training Course is designed to help you easily master the Garmin GNS 530 NAV/COM. The principles of the course make it valuable to all GNS 500 series operators, including pilots and instructors. IFR use of the GNS 530 is heavily stressed, but many VFR operations of the unit are also explained, making the course equally beneficial for VFR and IFR pilots. Audiovisual presentations illustrate what you need to know to become a GNS 530 expert, while interactive, scenario-based quizzes test your knowledge.
Cockpit automation, when properly used and understood, can reduce pilot workload in challenging flight operations. This course will help you use the GNS 530 to become a safer, more efficient pilot.
Benefits:
Gain confidence by using the interactive, scenario-based quizzes
Understand all aspects of the GNS 530, from basic functions to advanced WAAS approaches
Prepare for each study unit using the guided audiovisual presentations
Make sure that your computer meets our minimum system requirements.