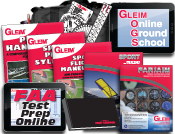 Deluxe Sport Pilot Kit with Online Ground School
Price:
$199.95
See Related Products
Description:
The Gleim Deluxe Sport Pilot Kit is an all-in-one program designed to expedite training for the Sport Pilot certificate. This kit contains everything you need (except airplane and instructor!) to become a Sport Pilot.
View our Getting Started Guide to learn how to use your pilot kit for success!
Watch a brief "how-to" audiovisual on using the Gleim Sport Pilot Kit.
Benefits:
Save money by purchasing all required material together
We guarantee you will pass your FAA Knowledge Test by using our interactive Online Ground School
Become a better test-taker with unlimited practice sessions
Study anywhere using the Test Prep Software
Technical Specifications:
Make sure that your computer meets all the System Requirements:
Minimum System Requirements for Gleim Online Ground School for Sport Pilot
Minimum System Requirements for Test Prep Software Download
Update Patches
Program and question updates for current edition(s) are available via the Internet, FREE!
Quick and Easy to Install
FAA Test Prep installs quickly and easily onto your computer.
Test Prep Software is not compatible with Mac Operating Systems. However, our Gleim Online Courses are completely compatible with both Mac and Windows. Click here to view Gleim Online Courses.
Set Contents: