Are you a seaplane pilot? Are you looking to stay current or preparing for a flight review? If you answered yes, the Gleim Seaplane Refresher Course will help!
The Gleim Seaplane Refresher Course (SRC) is a recurrent ground training course that will refresh your memory as to the operation of seaplanes. This course is an interactive study program that is designed to achieve two important goals. The first is to assist pilots who are preparing for a flight review in a seaplane. Secondly, the Seaplane Refresher Course serves as an effective review of seaplane concepts and procedures for pilots who already hold a seaplane rating and merely want to remain proficient. Who can benefit from SRC?
CFIs who want to use a structured program for the FAA-required flight review in a seaplane (FAR 61.56)
Seaplane pilots who are getting back into aviation and want to know what's new
Seaplane pilots looking to keep their flying knowledge sharp
Seaplane pilots preparing for an upcoming flight review or aircraft checkout
Anyone who wants to increase their understanding of basic seaplane flying knowledge
Seaplane Flight School Directory
Click here
to get started.
September, 2011


August, 2011


Course Elements
10 thought-provoking true/false study questions
10-15 pages of knowledge transfer study outlines
A 10-question multiple-choice quiz
A study unit evaluation
30-60 minutes of material per study unit
Completion Requirements
Answer 10 thought provoking true/false study questions. After you answer each question, an answer explanation that indicates why you answered it correctly or incorrectly will be displayed. While these questions do not count toward your grade, they are required so as to test your knowledge base.
Study the knowledge transfer outline for the study unit. When you have finished studying the outlines, you will be ready to take the multiple-choice final test.
Pass the multiple-choice final test with a score of 70% or better. You will be presented with 10 multiple-choice questions based on the material you covered in the true/false and outline sections of the study unit. You may move back and forth between questions and change your answers until you grade the test.
Frequently Asked Questions
Can I take the study units in any order?

Yes, but once you start a study unit, you have to complete that study unit before continuing.

What happens if I have computer problems and am unable to complete the course?

The computer requirements for taking this course are minimal so it can be done at just about any computer with Internet access. We're available to help at

support@gleim.com

or (800) 874-5346. You can give us feedback about your experience with the course or ask questions.

Can I skip the true/false part since the score doesn't count?

No. SRC is set up so that you have to take the true/false questions. The true/false questions are there to help you pass by focusing on areas you need to improve.

What happens if I fail a quiz?

Failing a test twice in a row causes you to be locked out. You must then contact Gleim for further directions.
Duration
Access to the Seaplane Refresher Course will expire 12 months from the date of purchase. If you have not completed the course and you need access after the expiration date, you may purchase a 12 month extension at half the current purchase price. You will have 30 days to purchase an extension.


Refund
A full refund is available if you have accessed no more than two study units within 30 days of purchase.


SRC Study Units
The Seaplane Refresher Course
The Seaplane Environment
Alterations, Performance, Weight and Balance
Taxi and Turns
Takeoffs
Approach and Landing
Emergency Operations
Docking and Beaching
The Flight Review
Getting started with the Gleim Seaplane Refresher Course
How to Get Wings Credit for This Course
Gleim uploads Wings course completion credit every week for current course users. If you have completed this course but have not received Wings credit, follow the instructions below to ensure you are credited for your work.
Go to http://www.faasafety.gov.
Log in with your FAASafety email address and password.

If you have not created an account with FAASafety, you will need to do that first.

Under the "Activities, Courses, & Seminars" tab at the top of the page, click "Activities."
Type "Gleim" into the "Keywords" box and click "Search."
Find the appropriate course title in the resulting list and click on the title of that course.
Click the "Request Credit" button.
Enter the date on your completion/graduation certificate into the "Date Completed" box.
In the "Select Validator" section, click the "Email" tab.
Type "wings@gleim.com" into the field and click the "Select" button.
Click "Submit for Validation."
An email notification will be sent to Gleim. We will review your course records and either validate your credit or reply explaining why we are unable to do so (for example, the course completion date is incorrect). Either way, you will receive an email reply from FAASafety once our action has been submitted. If you have any questions or difficulties with this process, please email
wings@gleim.com
.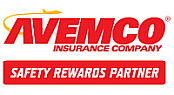 This course counts towards Avemco's Safety Rewards Program.
Click here
for more details.