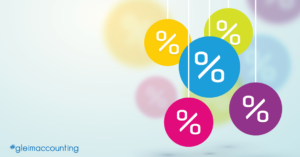 Whether you are taking the CPA Exam for the first time, retaking particular exam sections, or reviewing your experience after passing the CPA Exam, you are probably curious about the 2015 CPA Exam Pass Rates and what we can infer from them.
Though many factors can cause variations in pass rates over time, surveying the latest pass rate statistics gives us the chance to develop hypotheses about the past to help us prepare for the future. So, if you are interested in the CPA Exam pass rates, or if you just enjoy making educated guesses, walk with us as we look at the facts and consider the implications.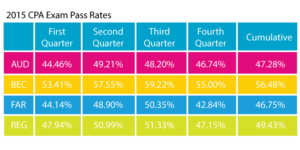 2015 CPA Exam Pass Rate Trends
Evident trends of the 2015 CPA Exam pass rates include:
The cumulative pass rates from highest to lowest are BEC, REG, AUD, and FAR.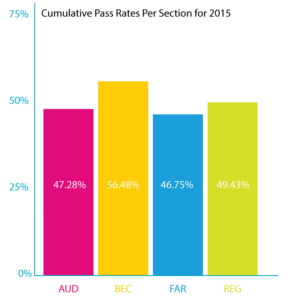 The cumulative scores report a pass rate increase for AUD and BEC, a decrease for FAR, and relative consistency for REG.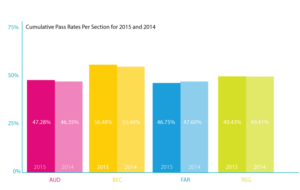 Pass rates are highest in the second and third quarters.
AUD had one of the lower pass rates of the sections because it was attempted more frequently than any other section.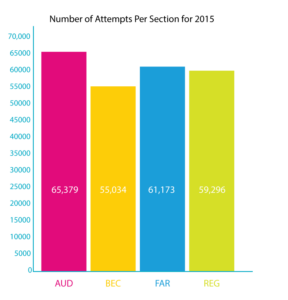 Probably because it is often one of the last sections attempted, BEC received a lower number of attempts and therefore had a higher pass rate.
Possible Contributing Factors to 2015 CPA Exam Pass Rate Trends
Factors that could have contributed to the trends of the 2015 CPA Exam pass rates include:
More candidates took the exam in 2015 than in 2014.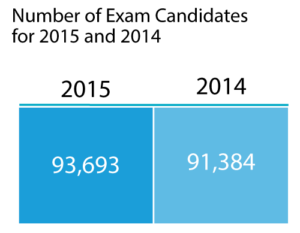 The fact that Q3 had the highest average pass rate could serve as evidence of a seasonal trend. In the summer, graduates have completed school and may not have started working yet, so they would have more time to study. Accountants could also have more time to study in the summer, as their busy season typically does not extend very far into the Q2 and Q3 months.
Q1 and Q4 could have lower pass rates based on their associated seasons as well. The holidays happening during the months of November, December, and January usually impact the amount of time and focus candidates are able to dedicate to studying. Furthermore, some accountants work for employers that have a calendar year end. These accountants could produce lower scores in Q1 and Q4 because they would not be as focused on their studies during these time periods due to an increased workload.
Notable Thoughts about the 2015 CPA Exam Pass Rate Trends
In 2015, candidates who began the examination process more than 2 years ago accounted for roughly 22% of the attempted sections. The overall pass rate of these attempts was only 37.6%, while the overall pass rate for students who took all four sections in under 12 months was 52.3%. Therefore, one particular change potentially leading to the higher pass rates of 2015 is that candidates are taking the test in a shorter period of time, and abbreviated testing time overall is proving to be a more successful approach.
Though the pass rates can provide helpful insight into the difficulty of the test, they do not have to dictate your ability to achieve extraordinary results. You can achieve CPA Exam success no matter what the pass rates are when you employ the exceptional coverage of Gleim CPA Review. Learn more about how Gleim CPA Review can help you prepare to pass the CPA Exam today!