The FAR section of the CPA Exam has, historically, received the lowest pass rates of any CPA Exam section. In fact CPA candidates often refer to FAR as the most difficult.

To properly prepare for the CPA Exam, you need to know some things about FAR.
Financial Accounting and Reporting (FAR) is the CPA Exam section devoted to the technical process of accounting. In this section, you are expected to prove that you know accountancy. We'll discuss the FAR content breakdown, question counts, difficulty levels, and similar topics so you know what to prioritize in your studies. We'll also address the testing process, as well as time management, to ensure a smooth transition from practice exams to exam day. Once you understand these and a few other FAR exam basics, use these FAR CPA Exam tips to help you study.
FAR Content
Of the four CPA Exam sections, FAR boasts the broadest coverage of accounting information.
FAR CPA Exam Content
| Content | Percentage |
| --- | --- |
| Conceptual Framework, Standard-Setting, and Financial Reporting | 25-35% |
| Select Financial Statement Accounts | 30-40% |
| Select Transactions | 20-30% |
| State and Local Governments | 5-15% |
FAR Skill Levels
The CPA Exam is not easy, and one factor contributing to CPA Exam difficulty is the fact that the exam assesses candidates at four different levels of skill.
CPA Exam Skill Levels (Lowest to Highest)
| Skill Level | Description |
| --- | --- |
| 1. Remembering and Understanding | The perception and comprehension of the significance of an area utilizing knowledge gained. |
| 2. Application | The use or demonstration of knowledge, concepts, or techniques. |
| 3. Analysis | The examination and study of the interrelationships of separate areas in order to identify causes and find evidence to support inferences. |
| 4. Evaluation | The examination or assessment of problems, and use of judgment to draw conclusions. |
Remembering and Understanding requires the least amount of skill, while the Evaluation level requires the most. Along with the REG CPA Exam section, FAR emphasizes higher order skills, with 25-35% of questions testing at the Analysis level.
FAR CPA Exam Skill Allocation
| Skill Allocation | Weight |
| --- | --- |
| Remembering and Understanding | 10-20% |
| Application | 50-60% |
| Analysis | 25-35% |
FAR Structure and Format
The FAR CPA Exam section consists of five testlets: two testlets of multiple-choice questions (MCQ) and three testlets of Task-Based Simulations (TBS).
FAR Testlet Structure
| Testlet | Question Number and Type |
| --- | --- |
| Testlet 1 | 33 MCQs |
| Testlet 2 | 33 MCQs |
| Testlet 3 | 2 TBSs |
| Testlet 4 | 3 TBSs |
| Testlet 5 | 3 TBSs |
The FAR MCQ and TBS both have a scoring weight of 50%.
Many of the FAR testlets contain a mixture of pre-test and operational questions. The operational questions count toward your total exam score, and the pre-test questions do not. However, the FAR CPA Exam section presents both types of questions at the same time, and in the same way, so you won't be able to tell the difference (don't waste valuable time trying).
FAR Question Format
| Question Type | Operational | Pretest |
| --- | --- | --- |
| MCQs | 54 | 12 |
| TBSs | 7 | 1 |
The AICPA includes pretest questions on the exam to collect data on candidates' performance in order to decide whether or not to use the pre-test questions as operational questions on later exam iterations.
FAR CPA Exam Time Management
The total testing time for FAR is four hours, the same as for the other CPA Exam sections. To effectively manage your time on FAR, follow this time management system:
Time Management System for FAR CPA Exam Section
Testlet

Format

Question Count

Time (in minutes)

1

MCQ

33

41

2

MCQ

33

41

3

TBS

2

36

15 minute break

(does not count toward total exam time)

4

TBS

3

54

5

TBS

3

54

Extra Time

14

Total

66 MCQs / 8 TBSs

240
FAR Testing Process
The difficulty level of this first MCQ testlet is "medium." The difficulty levels of the next testlet will be determined by your performance on the first. If you answer the medium difficulty level questions well, you will receive more difficult questions in the next testlet. If you do not perform well with the medium difficulty testlet, you will receive another medium difficulty testlet.

The difficulty level of the testlet denotes the average difficulty level of the testlet questions. According to the AICPA, your score isn't affected by whether you get harder or easier questions. But if your second testlet is suddenly harder than the first one, it means you're doing well.
Your performance on the MCQ testlets does not impact the difficulty level of your TBS testlet. The TBS testlets are pre-selected, and their difficulty levels do not change based on prior performances.
FAR Difficulty
FAR is notoriously considered the hardest part of the CPA Exam. Because of this, many candidates put FAR first on their CPA Exam schedule. The AICPA requires candidates to pass all four sections of the CPA Exam in a rolling 18-month period. This means that once you pass your first section, you'll have 18 months to pass the other three. Since the clock doesn't start ticking until you pass a section, it can be advantageous to pass FAR first, as it often requires more study time than any other section, and none of that extensive study time would be included in your 18-month window.
FAR Grading Process
Computers grade all CPA MCQ and TBS testlets. Your score is scaled according to the difficulty of the MCQs you answered correctly and the credit you receive on the TBSs. A CPA passing score is 75 points or higher. Note that 75 points does not equate to 75% of questions being answered correctly.
FAR Pass Rates
One reason FAR is considered the hardest exam section is because it consistently puts out the lowest pass rates. Here are the FAR pass rates, compared to the other exam sections, over the past year:
Between late 2017 and early 2018, FAR pass rates were on the decline, but during Q2 2018 they rose noticeably, to nearly 50%, dropping only by about 0.32% during Q3 2018. This overall increase in pass rates may be indicative of recent AICPA adjustments to the test.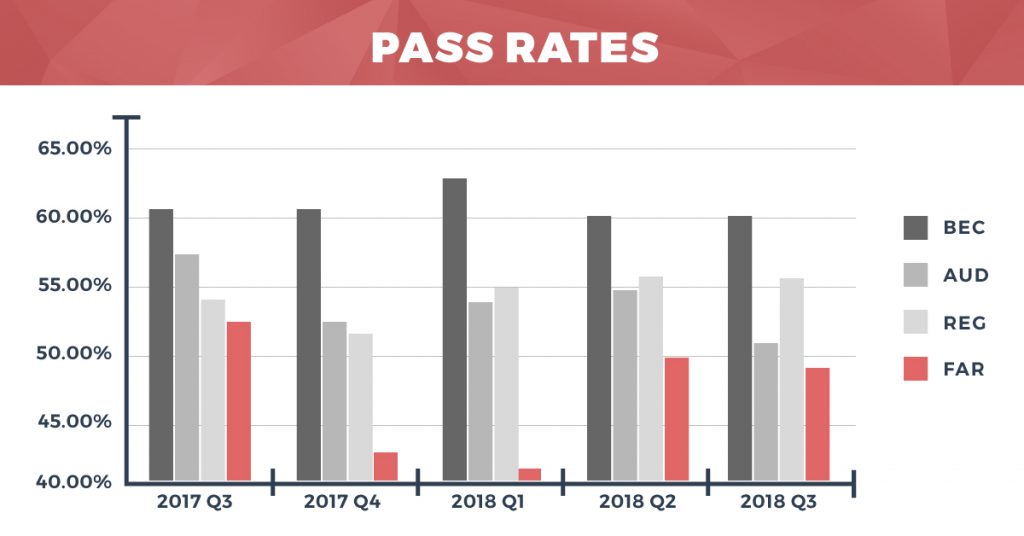 FAR CPA Exam Section Review
In the last few years, the FAR CPA Exam section pass rates have hovered around 45%, rising or falling slightly from year to year. More recently, at least until Q2-Q3 2018, FAR has sustained some of the lowest cumulative pass rates, preserving its reputation as the hardest section of the CPA Exam.
The Gleim Premium CPA Review course can help you pass FAR on your first attempt. Our course covers the exam content better than any other review, and always features the most up-to-date information. Our SmartAdaptTM technology detects your weak areas, directing you to focus where improvement is needed, and our course uses cumulative review questions to promote optimal retention of all FAR topics. The FAR questions you'll see in Gleim CPA Review are of the highest quality – they're just as challenging and realistic as those you'll see on the actual exam. By the time you complete our Final Review, which helps you to boost your score through last-minute improvements, you'll be completely prepared and confident for exam day!
By digging deep into foundational accounting concepts and offering detailed answer explanations for every practice question, Gleim CPA Review incorporates everything you need to know to overcome the FAR CPA Exam section. Check out our free CPA Exam Guide for more information on the CPA Exam!