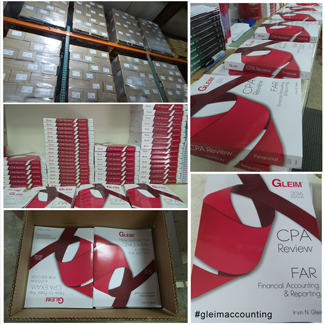 Beginning in January of 2016, the CPA Exam will reflect some minor but notable changes that alter the FAR, AUD, and REG sections of the exam. FAR has the most adjustments overall, the most significant of which is the new Accounting Standards Update (ASU) that eliminates extraordinary or unusual items. The updates in the AUD section include edits to the material's treatment of the Code of Professional Conduct and U.S. GAAP regarding going concern. Shifts in the REG section consist of revisions to thresholds indexed for inflation and increased emphasis on general concepts of state and local tax and U.S. taxation of multinational transactions. BEC candidates should know that Gleim has made minor modifications, such as adding examples, to our study guides in order to simplify the learning process; however, topical areas of the BEC section of the CPA Exam remain largely the same.
In anticipation of these changes and to align our materials with the 2016 Content Specification Outlines, Gleim has updated all of our Exam Prep. The 2016 Gleim CPA Review is available now both online and in print; order it today from our website or by calling our customer service team so you are prepared to pass in 2016. We have also enhanced our online platform with adaptive learning technology that enables candidates to identify and focus on their weak areas for more efficient study time. Finally, we have released with our 2016 products the Mega Test Bank, which offers the most CPA Exam questions and simulations on the market. As always, our Access Until You Pass™ Guarantee, our Gleim Instruct video lectures, and the assistance of our dedicated support staff are also available. Our sizable team of committed Personal Counselors will help you make the plan you need to sit for and pass the entire CPA Exam in 2016!
Gleim has made every effort to help CPA Exam candidates pass the 2016 version of the exam because the changes coming in 2017 will be much more drastic. Of the many transitions to take place, the most challenging is the addition of questions testing candidates at higher levels of knowledge. These questions requiring a greater command of the subject matter will appear on all sections of the 2017 CPA Exam, and the result will be an exam that is longer, more expensive, and more difficult to pass. Therefore, we strongly encourage CPA Exam candidates to take advantage of the time they have remaining to pass the 2016 version of the test. Gleim CPA Review will empower you to pass all four sections of the exam the first time you sit for them in 2016, so contact us today to get the latest edition of the Gleim CPA Review and avoid the more difficult version of the CPA Exam to come.
Click here to demo the CPA Review System where you can preview the 2016 course.