As we all know, the REG CPA Exam section will be going through some significant revisions in the near future thanks to the new Tax Cuts and Jobs Act (TCJA). REG primarily focuses on three topics: business law, ethics, and federal taxation, but the majority of the section focuses on federal taxation. Given that the TCJA is the most significant modification to the tax code since 1986, the REG tax law changes will be significant. Additionally, this exam is so substantial that you need to know about both the content of the exam and the characteristics of the exam. In this article, we'll discuss the REG content breakdown, question counts, difficulty levels, and similar topics so you know what to prioritize in your studies. We'll also address the testing process and time management for a smooth transition from practice exams to exam day. Once you understand the REG exam basics, use these REG CPA Exam tips to help you study.
Contents
REG CPA Exam Content
Passing REG requires a strong understanding of ethics, taxation, and business law as well as professional and legal responsibilities, which REG parcels out into these six content areas:
REG CPA Exam Content
| Content | Percentage |
| --- | --- |
| Ethics, Professional Responsibilities and Federal Tax Procedures | 10%-20% |
| Business Law | 10%-20% |
| Federal Taxation of Property Transactions | 12%-22% |
| Federal Taxation of Individuals | 15%-25% |
| Federal Taxation of Entities | 18%-24% |
Because tax laws are frequently amended, the AICPA has guidelines for updating the relevant REG questions. For Tax, you should know that "Changes in the federal taxation area, the Internal Revenue Code, and federal taxation regulations may be included in the testing window beginning six months after the change's effective date or enactment date, whichever is later." In other words, federal laws are generally eligible to be tested in the testing window beginning six months after their effective date.
In our experience, the AICPA does not appear to hold hard and fast to these rules. For example, you may see tax forms from prior years on your REG task-based simulations (TBSs), but don't be distracted by dates. Simply complete the form to the best of your ability. If the exam provides an out-of-date tax rate, use that rate to answer the question. Also, be aware that the auditing, financial, and tax research databases presented as Authoritative Literature in the TBSs are updated on the AICPA's schedule and may also appear out of date. Again, you should use the research database as presented, even if a recent change to the literature does not yet appear.
REG Skill Levels
The CPA Exam is difficult for several reasons, one being the skill levels at which the exam tests candidates.
REG CPA Exam Skill Levels
(Highest to Lowest)
| Skill Level | Description |
| --- | --- |
| Analysis | The examination and study of the interrelationships of separate areas in order to identify causes and find evidence to support inferences. |
| Application | The use or demonstration of knowledge, concepts, or techniques. |
| Remembering and Understanding | The perception and comprehension of the significance of an area utilizing knowledge gained. |
Each skill level builds on the preceding one. As you'll see below, the REG exam takes a balanced approach to testing at every skill level.
REG CPA Exam Skill Allocation
| Skill Allocation | Weight |
| --- | --- |
| Analysis | 25-35% |
| Application | 35-45% |
| Remembering and Understanding | 25-35% |
REG and FAR test Analysis more than AUD and BEC. Analysis is one of the more difficult skill levels within the CPA Exam, but it is not hard to master when you review with a thorough CPA review course featuring the best test bank on the market. Gleim CPA Review covers the exam content better than any other course, and we have hundreds of high-quality practice simulations that will help you achieve the analysis level of skill quickly and effectively.
REG CPA Exam Format and Structure
The REG CPA Exam section features five testlets. The first two testlets contain 38 multiple-choice questions (MCQs) each, for a total of 76 MCQs. The remaining three testlets present eight total task-based simulations (TBSs). The first TBS testlet has two TBSs and the second and third have three TBSs each.
REG Question Format
| Question Type | Operational | Pretest |
| --- | --- | --- |
| MCQs | 64 | 12 |
| TBSs | 7 | 1 |
The AICPA includes pretest questions on the exam to collect candidate performance data before deciding whether to include them as operational questions on later exam iterations. Your total exam score counts your responses to operational questions, not pretest questions.
You will not be able to differentiate between the pretest and operational questions. Therefore, you should answer all of the questions to the best of your ability. Really, the only helpful insight you get from knowing about the pretest questions is that some of the more difficult questions you see on the exam could just be pretest questions (and therefore won't hurt your score).
Both the MCQ and TBS testlets will contribute 50% of your total REG CPA Exam section score.
REG CPA Exam Time Management
The total testing time for REG is four hours, the same as the other CPA Exam sections. To effectively manage your time on REG, follow this time management system:
Time Management System for REG CPA Exam Section
Testlet

Format

Question Count

Time (in minutes)

1

MCQ

38

47

2

MCQ

38

47

3

TBS

2

36

15-minute break

(does not count toward total exam time)

4

TBS

3

54

5

TBS

3

54

Extra Time

2

Total

76 MCQs / 8 TBSs

240
This system incorporates individual question time limits for each question type:
MCQ: 1 ½ minutes
TBS: 18 minutes
As you can see from the small amount of extra time allotted, this schedule is very tight, and it's because REG has more MCQs than any other exam section. Straying from this schedule greatly reduces your chances of passing. Do whatever you can to adhere to your time management system. This includes making educated guesses when necessary and not stressing about difficult questions (remember, they might be pretest!).
REG CPA Exam Testing Process
The first MCQ testlet always has a difficulty of "medium," and your performance on that testlet determines the difficulty of the next one. If you do well, the exam will give you a "hard" testlet. If you struggle with the medium difficulty questions, you will receive another MCQ testlet of medium difficulty.
The difficulty level assigned to each testlet is based on the average difficulty of the MCQs it contains. The AICPA guarantees you are neither penalized for receiving harder questions nor benefited for receiving easier ones.

The difficulty level of the REG TBS testlets is not based on your performance. TBSs are pre-selected, so their difficulty level does not change.
REG Grading Process
Computers grade all CPA MCQ and TBS testlets. Your score is scaled according to the difficulty of the MCQs you answered correctly and the credit you received on the TBSs. A CPA passing score is 75 points or higher. Note that this is 75 points, not 75% correct.
REG Pass Rates
REG performance has not been consistent across years of CPA Exam pass rates. In 2006, REG had the lowest pass rate for each quarter. But then, REG's pass rates started to climb. Now, REG is consistently the section with the second or third highest pass rate, and it has had the highest pass rate multiple times along the way. These days, BEC consistently holds the highest pass rate, and REG competes with AUD for second place.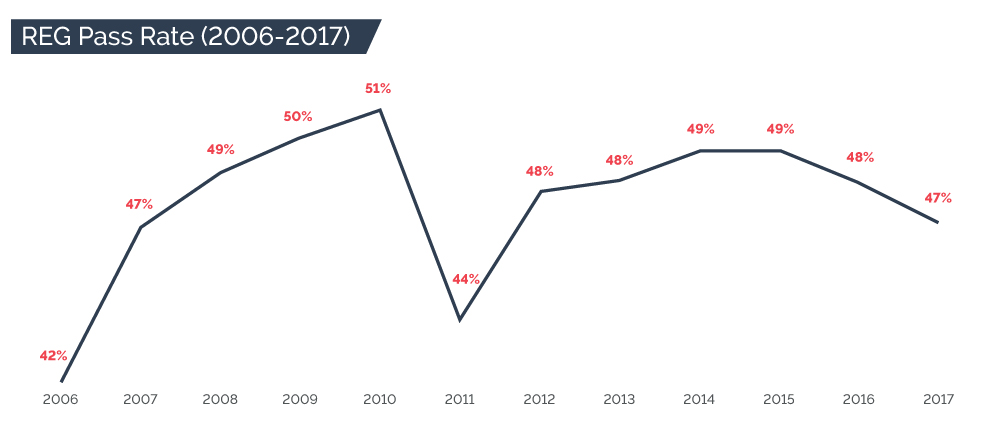 Since 2006, the lowest pass rate REG has reported in one quarter has been 39%, and the highest has been 54%. When compared to the other exam sections in the past year, this is how REG measures up: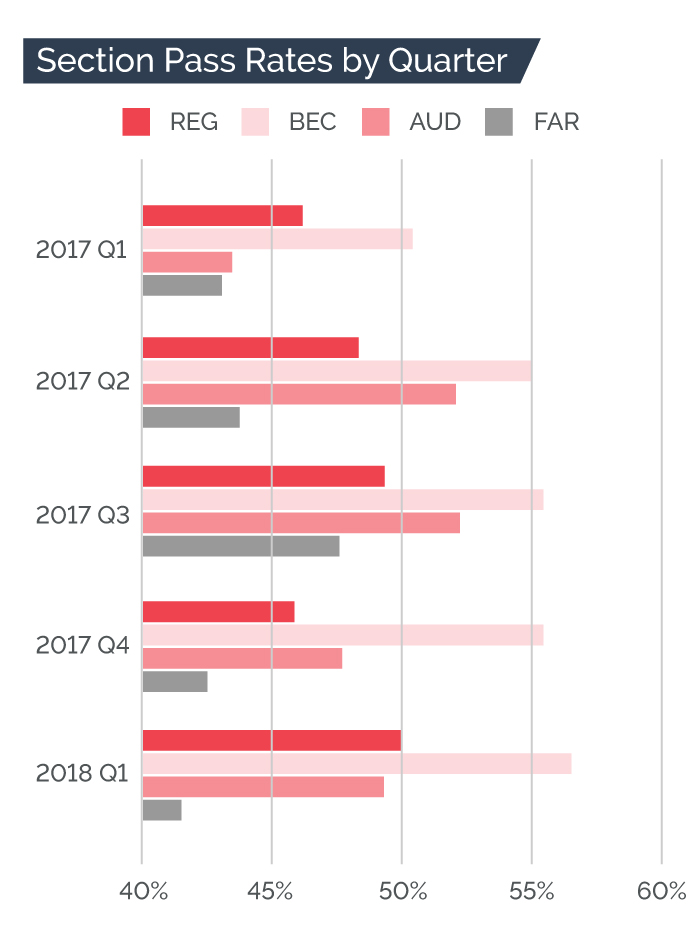 REG Difficulty
As REG's quarterly pass rates haven't risen above 50% since 2015, it has a reputation for being one of the more difficult exam sections. For candidates without much tax experience, REG can be fairly tricky because there is a large body of material you must memorize before you can begin to apply it at a high level. If you do have tax experience, REG may be the section you should take first. If you don't have experience with tax but have taken several financial accounting classes, you may be more comfortable starting with FAR instead.
When creating your CPA Exam schedule, we recommend starting with the section that appeals to you most, which is likely the section with whose content you're most familiar, so you're more likely to pass on your first try.
Passing the REG CPA Exam Section
Getting caught up on all the latest tax information is easy when you prepare for REG with Gleim CPA Review. Our course covers the exam content better than any other and always features the most up-to-date information on any tax law changes. With our SmartAdaptTM technology constantly detecting your weak areas, our course also uses cumulative review questions to ensure your retention of REG topics. The REG questions you'll see in Gleim CPA Review are of the highest quality – they're just as challenging and realistic as those you'll see on the actual exam. And when you complete our Final Review that helps you optimize your score through last-minute improvements, you'll be completely prepared and confident for exam day!
Now that you know so much about REG, learn everything else you need to know about the exam by accessing our free CPA Exam guide today!