A System for Success
How to pass your professional exam.
The Gleim System for Success booklets are free guides that explain how candidates can register for, study for, and pass the CPA, CIA, EA, and/or CMA Exams. Gleim removes the "mystique" of accounting exams by providing answers to all of your Frequently Asked Questions.
Gleim has a long and proven history of preparing exam candidates for success. The complete Gleim Review Systems promote success, and the System for Success booklets are an essential part of the Gleim Review System. The Review Systems promote success in two ways: (1) By cementing your knowledge of the subject matter and (2) By giving you a system of active participation tools for planning ahead, understanding what can go wrong, and avoiding most problems.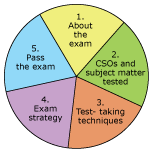 Each System for Success booklet includes all of the information you need to
Become familiar with the exam process, including the exam's purpose,
coverage, preparation methods, format, administration, grading, and pass rates
Conceptualize the subject matter tested
Perfect your question-answering techniques
Plan and practice exam execution
Develop the confidence you need to succeed!
Click on a booklet below to get started on your path to passing your exam NOW!
As Dr. Gleim advises, "Throughout your life, your greatest achievements result from a series of failures and successes. As you do better, you feel better. This generates a snowball effect that results in even better performance in everything you do."