Now introducing the Gleim Campus Rep digital badge!
Let your friends, followers, and employers know you are a Gleim Campus Representative.
Display the digital badge on your social media profiles, resumes, and email signatures. You can also post it as a regular social post.
Use the link provided here to allow your peers, professors, and employers the opportunity to learn more about Gleim and the Campus Rep program.
How to Download Your Digital Badge
On mobile, hold your finger down on the image and the option to save or download to your phone's photo gallery will show.
On desktop, you can click on the image or right click the image and select the option to "save image as" to download the image to your computer.
If you are unable to download the image please contact me at campus.rep@gleim.com and I'll email it to you.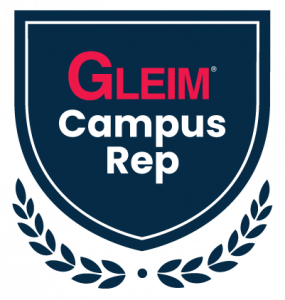 How to Use and Display Your Digital Badge
1. Add it to your LinkedIn profile
Under the Experience section, add Gleim Campus Rep as your job title/position
Upload the badge to the media section
Include the provided link in this task description
In the description, you can include the following or write your own: As a Gleim Campus Rep, I am here to help you learn how Gleim Exam Prep can help you pass your accounting certification exams. I am also here to help professors learn how Gleim can help them in their classrooms. Learn more about the Gleim Campus Rep program and ask for your free Gleim desk copy at gleim.com.
You may also add the digital badge under the Featured section of your LinkedIn profile.
2. Create a social post on all your social pages to share the great news! Upload the image and caption like a regular post. Don't forget to include the Gleim link. Remember to tag Gleim!
3. Add the digital badge and link to your email signatures.
4. Upload the digital badge and include the link in your digital resumes. If you are using a physical resume, add the digital badge next to your Campus Rep position or at the top with your contact information.
You will receive one point for each social bio you update with this status. Submit the screenshots in this task after updating your profile pages to earn your points.