The best CMA review course on the market just got better with the launch of the new 2017 edition of Gleim CMA Review. In keeping with our tradition of delivering the best content for the greatest value, we have enhanced Gleim CMA Review 2017 with plenty of new features. Of course, we've also preserved the original elements that have made Gleim CMA Review the #1 CMA course.
Gleim CMA set the standard for CMA prep by releasing the first CMA review course in 1981. Since then, Gleim CMA has become the most widely used CMA program. Gleim CMA has trained more CMA candidates than any other course on the market, and with our new edition, we continue to provide the superior study materials CMA candidates have come to rely on to pass the CMA exam.
To prepare the CMA candidates of 2017, the new course comes with a variety of enhancements:
More practice questions: By adding 100 new ICMA-released questions, we've made the largest test bank available even bigger while maintaining the exceptional coverage of our course.
New course navigation: Our online platform is now easier to use yet still emulates the actual CMA exam environment better than any other course.
Fully updated content: We've refreshed our materials to accommodate additions to the Learning Outcome Statements (LOSs) and feedback from CMA candidates.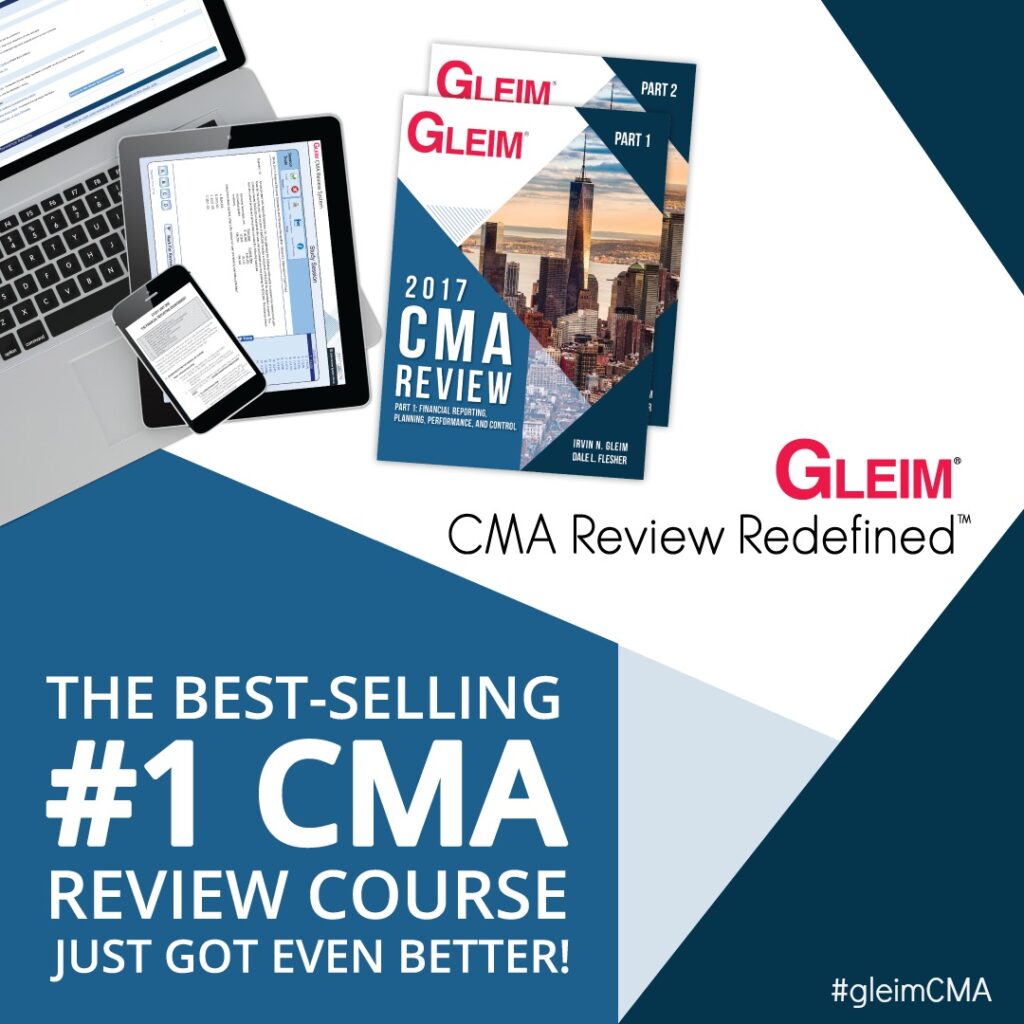 As always, our best-selling course still includes signature components, such as
Easily digestible content: Our expertly-authored books are broken up into bite-sized lessons you can ponder at your own pace for maximum retention.
Comprehensive video series: Gleim Instruct contains over 40 hours of in-depth video lectures that lead candidates through some of the most difficult questions and problems.
Customized support: Our CMA exam experts will supply helpful advice and encouragement as needed, and our accounting experts can answer all of your content-related questions.
Access Until You Pass® Guarantee: With our no-hassle guarantee, your materials will never expire in the middle of your studies.
The latest edition of Gleim CMA Review is now available and ready to help you reach CMA exam success in 2017. Discover the quality that has made Gleim CMA so popular for more than 35 years by learning more about Gleim CMA Review today!