Gleim Reps! This is another point opportunity for the Giving Back Campaign.
Gleim is giving back to say thank you for the opportunity to help candidates succeed for over 45 years. We are going to donate to a local food bank to help feed families in need with every eligible purchase. Get the details here.
We appreciate your help in promoting this campaign! Share the following copy and images to your own social media pages. For each page you share the post, you will be given 1 point.
Submit your screenshots after you post it to your pages in the social media task here.
Copy for post
COPY
Facebook Join Gleim in #giving back! Gleim is thankful to all their candidates for choosing them to help them succeed for over 45 years. To show their appreciation, they're donating to a food bank with every eligible purchase. Learn more here. https://bit.ly/3BOtpEg #accounting
LinkedIn Join Gleim in #giving back! Gleim is thankful to all their candidates for choosing them to help them succeed for over 45 years. To show their appreciation, they're donating to a food bank with every eligible purchase. Learn more here. https://bit.ly/3BOtpEg #Gleim #accounting #giveback
Twitter Join Gleim in #giving back! Gleim is thankful to all their candidates for choosing them to help them succeed for over 45 years. To show their appreciation, they're donating to a food bank with every eligible purchase. Learn more here. https://bit.ly/3BOtpEg #accounting
Instagram Join Gleim in #giving back! Gleim is thankful to all their candidates for choosing them to help them succeed for over 45 years. To show their appreciation, they're donating to a food bank with every eligible purchase. Learn more at https://bit.ly/3BOtpEg or click the link in bio. #accounting #giveback #gleim #accountants #cpaexam #earncma #auditors #tax #payitforward #graitude #gratitudemonth #Gleimaccounting
IG STORIES Click link in bio to join Gleim in giving back to the community with every eligible purchase. #accounting #giveback
FB STORIES Click link in the post to join Gleim in giving back to the community with every eligible purchase. #accounting #giveback
Images to use for Instagram and Facebook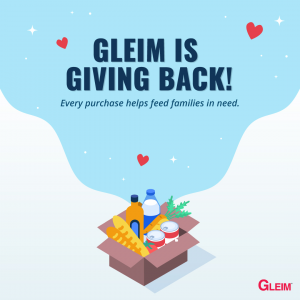 Images to use for LinkedIn and Twitter