[Originally published on 06-05-2018]
[Updated 12-12-2018]
As the saying goes, practice makes perfect. So wouldn't it be great if you could take a CMA practice test before you take the real CMA exam? Good news: you can! There are actually several resources you can use to preview the CMA exam process so you're calm and comfortable on exam day. Taking advantage of these CMA practice exam tools reduces stress and minimizes surprises when you sit for the exam.
CMA Practice Test Resources
Some of these resources are available to every CMA candidate and others are available only to candidates using Gleim CMA Review, but all of them can give you an extra edge on exam day.
When you take the actual CMA exam, you'll do so at a Prometric testing center. Prometric is the industry leader in testing and assessment services. It administers many professional exams at its testing centers and believes that "familiarizing yourself with the look and feel of the computer-based testing environment in advance of your exam will minimize pre-test mistakes." We agree. For this reason, Prometric offers the Prometric Test Drive program for candidates' convenience.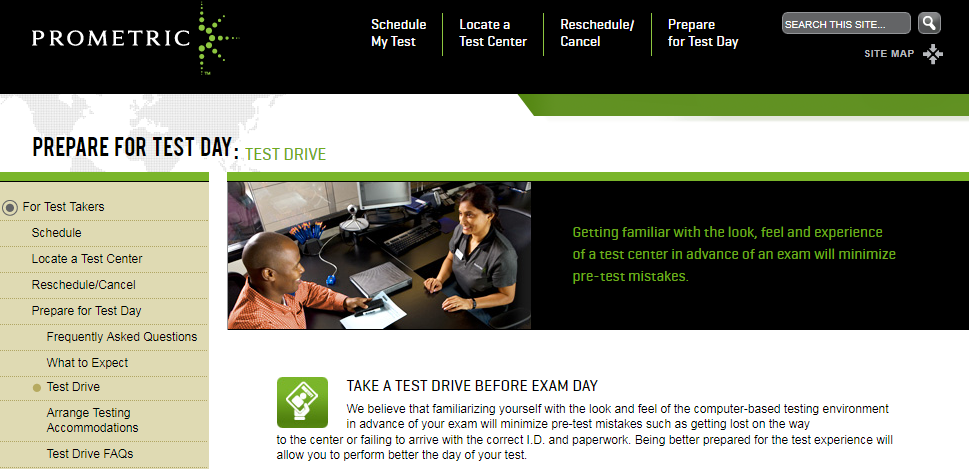 The Test Drive is a $30 service consisting of a 30-minute, real-world practice run of the test center experience at your chosen testing site. A Test Drive is scheduled by appointment. During your Test Drive, you'll walk through all exam day testing procedures, such as
Checking in
Stowing your personal items
Having your ID and documentation checked
Being scanned by a hand-held metal detector wand
Getting your picture and fingerprints taken
Being led to a workstation
Completing a tutorial
Taking a generic sample test
Answering a survey of the experience
Filling out an end-of-test report
Checking out
While the sample test won't contain any real CMA exam questions, the Test Drive is still a valuable experience because it familiarizes you with the procedures of your testing appointment. The Test Drive reduces your overall anxiety on exam day because it reveals exactly what you can expect when your appointment begins. It also gives you the chance to find out where the center is, how long it takes to get there, what the parking situation is like (if you drive), and what restaurants are nearby for celebration afterward. When you take these steps before exam day, you'll be better equipped to give an exceptional exam performance.
The Prometric Test Drive familiarizes you with the testing process, but not with the exam content. To complete your CMA preparations, you need experience answering questions like the ones you'll see on the exam. Gleim Practice Exams provide that experience. The Practice Exam feature found in each Gleim CMA Review System enables you to create a CMA practice test that pulls from the largest test bank of questions on the market and emulates the exam environment better than any other course. You can create as many Practice Exams as you'd like (and then some). With each Practice Exam you take, you'll strengthen your weak areas and refine your question answering and test-taking skills.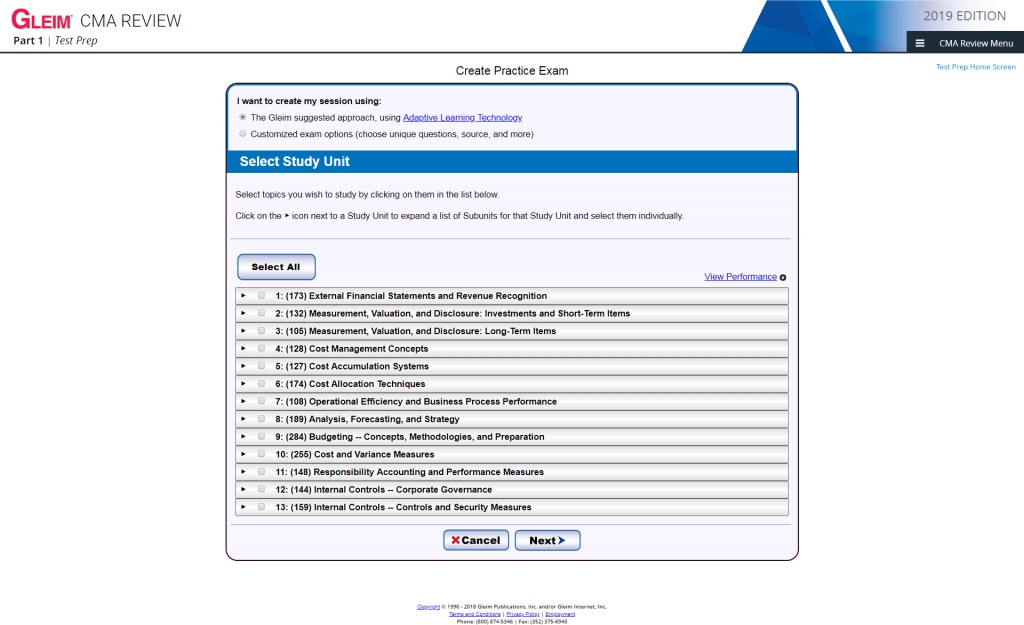 To create a Practice Exam for CMA, enter the Test Prep section of your Gleim CMA review course and click the Practice Exam button. You can either employ the adaptive learning technology of the Gleim suggested approach or decide for yourself which topics to review by selecting specific Study Units and Subunits. Our adaptive technology works behind the scenes to bring up questions about your areas of weakness, so we recommend you use it for your first few Practice Exams. The format and functionality of the Gleim Practice Exam recreate the Prometric testing environment as much as possible. But they also include a few extra features that you won't find on the CMA exam, such as:
The ability to discard your Exam without grading it
The ability to run out of time and continue the Exam
The ability to review your Exam after grading it
These features let you learn from each Practice Exam you take without all the pressure of a "grade" or an ending time. When you're ready to stick to the structure of the real CMA exam, you can move on to the Gleim Exam Rehearsal.
The purpose of the Gleim Exam Rehearsal is to ensure that you know exactly what to expect on exam day. To get the most realistic CMA exam experience attainable outside of the testing center, you should take the Exam Rehearsal after you finish your initial review and shortly before your scheduled testing appointment.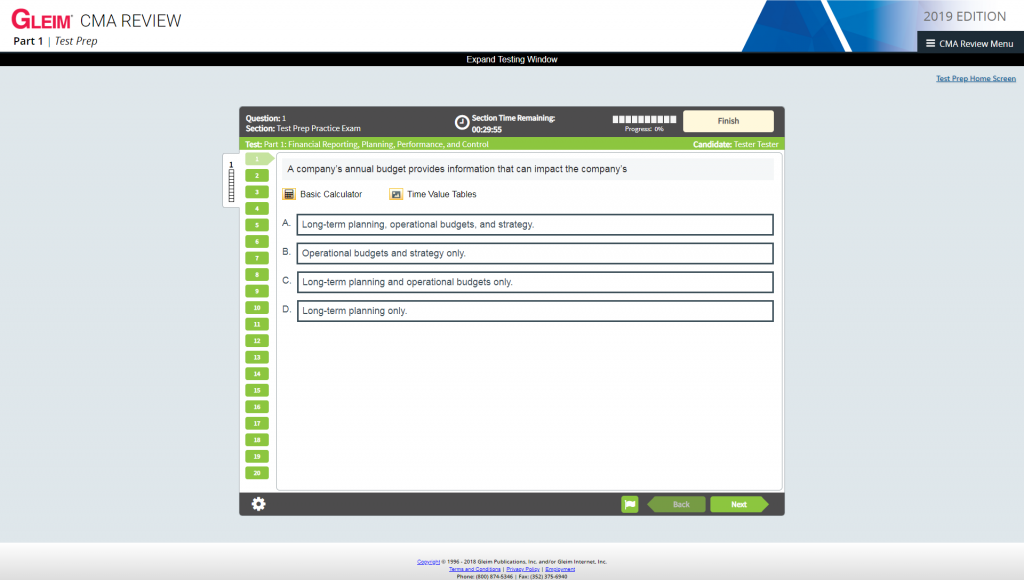 The Gleim Exam Rehearsal will help you get familiar with every part of the CMA exam: the different exam screens, the layouts, the buttons, the fonts – even the colors (see all the updates for 2019 here). This thorough exam replication minimizes surprises that could distract you during the test. It also empowers you to move through the exam with ease, so you can do your best and save precious testing time.
Speaking of testing time, the Gleim Exam Rehearsal allows you get acquainted with exam timing. You should complete the Exam Rehearsal all in one sitting so you have the chance to practice time management. On the real CMA exam, you'll have 4 hours of total testing time. You should budget 3 of those hours to answering the 100 multiple-choice questions and 1 hour to answering the 2 essay scenarios. The key to successfully executing a good time management strategy is to answer MCQs at a rate of 1.5 minutes per question. You should then answer each essay scenario in half of the time remaining. While you can apply this system to the Practice Exams you take, you'll really be able to put it into action when you take an Exam Rehearsal. Once you finish the Exam Rehearsal, you'll receive a breakdown of your performance and be able to review your responses with all of the correct and incorrect answer explanations. You should use this information to brush up on any weak areas that remain before you sit for the CMA exam. When you're done, refer to our free CMA exam guide for additional test day tips.
Exam-emulating CMA Prep
Just like Prometric, we want you to be comfortable with the look and feel of the testing environment before you encounter the actual CMA exam. To that end, we've created a CMA review that displays the same screens, elements, and navigation tools as the actual test, so you can make mistakes early, make mistakes often, and still come out on top. We all learn from our mistakes, and doing so during a practice run gives you the opportunity to not make those mistakes on exam day. When you study with the best exam-emulating course on the market, which also happens to be the most widely used, you'll have every advantage on the CMA exam. See for yourself how well the #1 CMA review imitates the exam by accessing our free CMA demo today!