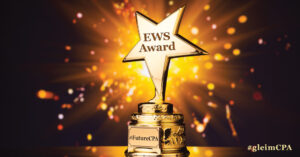 The AICPA recently announced the winners of the 2015 Elijah Watt Sells Award, and Gleim CPA Review was thrilled to see familiar names on the list. Therefore, we would like to honor the EWS Award winners by discussing the award qualifications and reviewing the history of the award.
The Qualifications for the Elijah Watt Sells Award
In order to receive the prestigious Elijah Watt Sells Award, a CPA candidate must have achieved the following:
Secured a cumulative average score above 95.50 for all 4 sections of the Uniform CPA Examination
Passed all four sections of the CPA Exam on their first attempt
Completed all testing in 2015
Of the 93,742 candidates who sat for the CPA Exam in 2015, 75 fulfilled the EWS Award requirements.
The History of the Elijah Watt Sells Award
The AICPA established the EWS Award program in 1923, a year before the namesake of the award, Elijah Watt Sells, passed away at the age of 66.
Mr. Sells was born in Iowa in 1858 and educated in Iowa and Kansas. Though he did not finish his undergraduate education at Baker University in Kansas, he later received an honorary degree from the institution. His early career as general bookkeeper and traveling auditor for various railroad lines supplied him with a wealth of public accounting experience, and corporations eventually called upon him to conduct special examinations of their accounts and implement new accounting systems. His work with the accounting system of the United States government enabled him to become the only person at the time to have been officially recognized as an expert accountant through an act of Congress.
Mr. Sells partnered with Charles Waldo Haskins to form one of the first major accounting firms started by American rather than British accountants. In 1896, Mr. Sells also became one of the first New York State certified public accountants, and the laws of eight other states recognized his title as well. Known as a "pioneer of the accountancy profession," Mr. Sells served as the president of the AICPA for two terms and remained active in the accounting industry until his death in 1924. The purpose of the award that bears his name is to commend exceptional performance on the CPA Exam.
The Triumph of Passing the CPA Exam
Gleim CPA Review extends our congratulations to all of the 2015 EWS Award winners, as receiving this award is truly a triumph. Yet, while receiving the Elijah Watt Sells Award is a momentous feat for any future CPA, passing the CPA Exam is in itself a major accomplishment that we always enjoy celebrating with our clients. Hear from candidates who passed the CPA Exam with Gleim by perusing their testimonials, and share your own story of CPA Exam success with us by emailing gleimmarketing@gleim.com today!