Attention, CPA candidates! Between February 17 and March 4, 2018, you will not be able to receive, print, reprint, or pay for your NTS.
NASBA is updating the system through which it issues the Notice to Schedule (NTS), a necessary document for scheduling and taking any section of the CPA Exam. What does this mean for you as a CPA candidate? The effects this news will have on you depends on whether or not you have already applied for your NTS.
Contents
What If I Have Already Applied for My CPA Exam NTS?
You won't receive your NTS between February 17 and March 4. NASBA is not issuing any NTSs during this window.
If NASBA has already processed and responded to your application, then you received an email with your NTS attached. Make sure to save that email so you don't lose or delete it. We suggest you also print it out and store it in your physical files, just to be sure. If you can't find the email, you have until 10:00 p.m. CST on February 16 to access and reprint your NTS.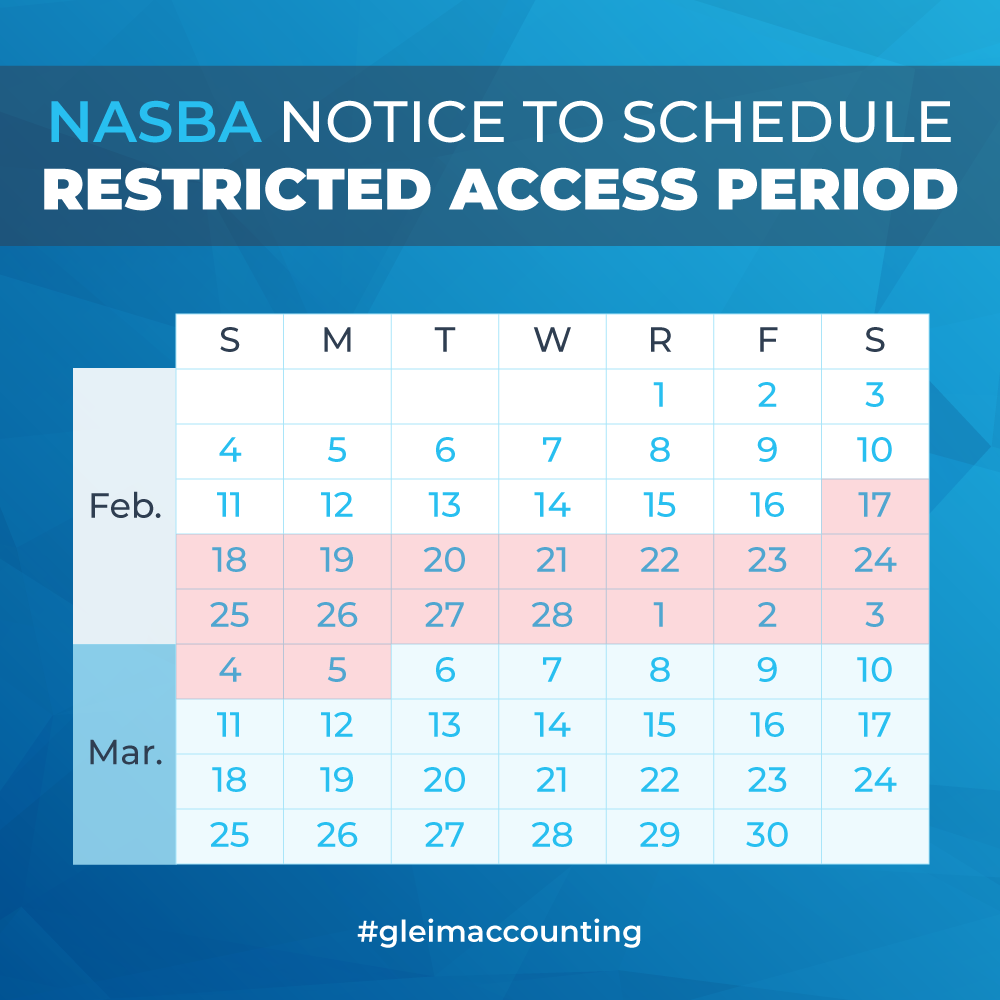 What If I Haven't Applied for My CPA Exam NTS Yet?
The temporarily restricted access to NTSs really impacts candidates who intend to take their first exam part during the April-June testing window. If this describes you, you should apply for your CPA Exam NTS as soon as possible. When you first register for the CPA Exam, receiving your NTS can take about a month. Also, NASBA recommends that you plan your test date a month in advance, which means you should allow for the entire process of applying for and sitting for an exam part to last at least two months from start to finish. Keep in mind that an NTS is usually valid for six months, but that number varies from state to state. An NTS has to be valid when you sign up for the exam and when you take it. If you plan on taking the exam after June, then you'll be fine to wait until the blackout has lifted to apply.
The blackout dates won't affect your ability to schedule your testing appointment with Prometric. As long as you have access to your NTS offline or through your email, you can still set up your exam date so you can stick to your CPA Exam study plan.
Due to the foresight and flexibility that scheduling the CPA Exam requires, the period of restricted NTS access affects unprepared candidates the most. As long as you continue to plan ahead for each exam part, this brief restriction will only be a slight inconvenience to you. Adjust your schedule so you can get a CPA Exam NTS in time for your next section.
Why is NASBA Doing This?
NASBA is migrating to the next version of their Gateway and National Candidate Database. This database is an integral part of processing applications and issuing the NASBA Notice to Schedule. The NASBA website reports, "These new systems will greatly improve your overall experience with additional user-friendly functionality and enhanced security measures to protect your personal data." The new software will launch at midnight on March 5.
NASBA Gateway Migration Period
February 16

February 17 – March 4

March 5

NTS Payment: Must be completed by 10:00 p.m. CST

NTS:

No Issuing

No Reprinting

Payment:

No Receiving

New Gateway: launches at 12:00 a.m. CST
Can I Get Some Help with My NASBA Notice to Schedule?
Keeping track of these and other important exam dates is much easier when you're working with a CPA Exam squad! At Gleim CPA, our Personal Counselors are already talking with candidates about the best course of action they can take with their CPA Exam NTSs in light of this news. Access to our exam mentors is included in both Gleim CPA Review Systems, as is our intuitive and adaptive study planner that helps you navigate your CPA Exam schedule. See our truly adaptive CPA review course in action by signing up for our free CPA demo today!