Like an architect creating a skyscraper, the AICPA builds the CPA Exam using blueprints. These Blueprints are a series of accounting tasks, organized by topics, that a newly licensed CPA should know how to complete. The AICPA uses these tasks as a basis for all CPA Exam questions. In this article, we'll help you become familiar with the CPA Exam Blueprints and understand what their role should be in your exam studies.
Contents:
Breaking Down the CPA Exam Blueprints

The Blueprints, at their most granular level, consist of Representative Tasks, which the AICPA describes as "a brief explanation of what we'll test you on with correlation to the skill that's being tested." The tasks are the action items of the Blueprints, and they are always introduced by a verb to highlight how they should be applied, for example:
"Understand the principles, rules, and interpretations included in the AICPA Code of Professional Conduct."
"Develop or modify a detailed engagement plan for an audit or non-audit engagement based on planning inputs and constraints."
"Apply the ethical requirements and independence rules of the Securities and Exchange Commission and the Public Company Accounting Oversight Board to situations that could present threats to compliance during an audit of an issuer."
Within each section of the exam (AUD, BEC, FAR, and REG), Representative Tasks are organized into Topics, Topics are organized into Content Groups, and Content Groups are organized into Content Areas. Each exam section is made up of four or five Content Areas. These subheadings are present to explain the hierarchy of topics on the exam and to give context to the really important information: the Representative Tasks.
What Do the CPA Exam Blueprints Tell Us?
While the Blueprints provide all of the concepts that make up the CPA Exam, they do not have any of the actual content needed to study. Each question the exam asks relates directly to something on the Blueprints, so theoretically, if you can complete every Representative Task on the Blueprints, you can pass the CPA Exam. This makes the tasks extremely useful to CPA review providers in a number of ways. It tells us
What will be on the exam,
How content coverage will be distributed, and
What level each concept will be tested at.
Content Coverage
The Blueprints also reveal the percentage of content area covered on each exam section. For example, FAR is made up of these content areas:

If you're wondering whether you should spend more time studying State and Local Governments or Select Financial Statement Accounts, this Content Area Allocation included in the Blueprints easily answers that.
Skill Levels
The Skill portion of the Blueprints indicates what level of understanding each task encompasses. Representative Tasks are assigned one of the four skill levels: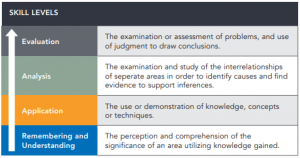 Remembering and Understanding is the simplest Skill level, and Evaluation is the most complex. According to the AICPA, Remembering and Understanding questions are almost always multiple-choice questions, application questions could be either multiple-choice or task-based simulations, and Analysis and Evaluation questions will almost always be task-based simulations. The Evaluation skill level is only tested through AUD simulations. BEC Written Communications and Research questions test at the Application Skill level.
For example, look at topic 7 in the graphic below: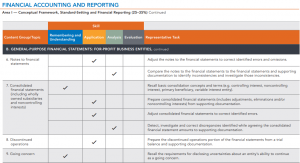 Notice there are four Representative Tasks for Topic 7 with varying skill levels indicated. You only need a Remembering and Understanding level of knowledge to complete the first task under "Consolidating financial statements." Looking closer at how that task is described, it becomes clear why that is: the task is simply to "recall basic consolidation concepts and terms…" In other words, the AICPA wants you to know that you will need to know the definitions of the basics of consolidations. On the other hand, in order to perform the last Representative Task for that topic, which is to "detect, investigate and correct discrepancies identified" and more, you need to have a higher, Analysis level of understanding. This is the AICPA's way of telling candidates that there could be a simulation presenting a situation where candidates have to review supporting documentation, analyze consolidated financial statements, and know how to proceed when there are discrepancies.
How Do I Use the CPA Exam Blueprints?
DO: Use them as a high-level guide to the exam.
As stated before, the Blueprints offer an overview of the CPA Exam concepts, but don't dive into specific exam content. Still, they can be useful to you. According to the AICPA, reviewing the Blueprints can tell you what kinds of topics will be addressed on the exam and allow you to get a feel for the content. They also outline which Content Areas will have heavier coverage.
The AICPA strives for complete transparency regarding CPA Exam content. There are not supposed to be any surprises. "[The CPA Exam Blueprints are] a public document," said Joseph Maslott, Senior Manager at the AICPA. "[They represent] what's on the exam, believe it or not, we're not trying to trick or mislead you."
DON'T: Replace your formal review provider with the Blueprints.
It is possible for you to use the Blueprints to make your own study plan. After all, they do outline everything you need to study. Who needs a review provider when you have all of the topics on the exam laid out for you?
You do.
It would be nearly impossible to pass the CPA Exam using only the Blueprints. You would spend an eternity reading and memorizing all the accounting rules and laws that inform the CPA Exam Blueprints. Most people would not be able to absorb it all in time to pass all four sections in the 18-month window.
Additionally, just memorizing the content doesn't teach you how to think analytically about these topics. You can get to a Remembering and Understanding level, but only guidance from a review provider in the form of comprehensive outlines, challenging multiple-choice questions, and realistic simulations can get you to an Evaluation level. Learning to apply accounting principles and analyze problems is an essential part of studying for the CPA Exam, and studying without a review provider won't prepare you for that. For the past 40 years, Gleim has built a business around teaching these topics in a way that prepares candidates to pass the exam with confidence. Our courses focus on understanding concepts and learning to apply them in a variety of situations. This way, you can answer all the CPA Exam questions without having to read every word of every accounting rule.
No Need to Worry. Gleim Already Has You Covered.
The Gleim CPA Review course incorporates the topics from the CPA Exam Blueprints into our comprehensive content to teach you exactly what you need to know to crush the CPA Exam. Our SmartAdaptTM technology determines your weak areas and adapts the review to fit your individual study needs. With Gleim, there is no guessing what's on the exam. We use proven techniques to ensure you'll pass the exam the first time. Check out our free CPA Exam guide and see how Gleim can help you become a CPA.