It's no surprise that the REG tax law changes are a hot topic of discussion right now because the Tax Cuts and Jobs Act (TCJA) is the most comprehensive tax overhaul since 1986. With these major changes to the tax code already in effect, AND because anywhere from 55% to 85% of any REG exams could be on federal taxation topics, big shifts are on the horizon for the REG section of the CPA Exam.
Don't despair. In a break from their usual policy of testing tax law six months after it's effective, the AICPA isn't updating the CPA exam for the Tax Cuts and Jobs Act until January 1st, 2019. This delay is largely due to the fact that it's a massive undertaking for the AICPA to update all of their questions and simulations for the new law. We expect many of the questions and simulations currently in use to be removed from the bank entirely. Before that can be done, the AICPA must have new questions and simulations written to replace them.
The AICPA will have to revise the CPA Exam Blueprints to reflect the changes coming to REG. We don't know when they'll release the new Blueprints, but they will, at the very least, reflect the topics that are no longer testable—such as personal exemptions.
While the AICPA is working on this overhaul, the Gleim CPA team is working to ensure all of our candidates pass the REG section of the CPA Exam this year before the changes impact their REG score. We worked with our Personal Counselors to devise the best course of action to allow you to pass REG before January, even if you haven't started studying for it yet. We'll also go over exactly how the tax law changes could affect REG so you are fully prepared even if you wait until next year to sit for REG.
How the Tax Cuts and Jobs Act Affects REG
The scale of these tax law changes should not be underplayed; we haven't seen an overhaul like this since the Tax Reform Act of 1986, 32 years ago. The TCJA makes some significant changes to the U.S. tax code. These changes will be reflected in testable content on REG, which requires you to understand current tax law. The largest changes are discussed below.
Elimination of personal exemptions. This is a huge change for the individual taxpayer. Before the TCJA, you could claim a $4,050 deduction from your taxable income, which essentially meant, if you made $30,000 in 2017, you could claim a $4,050 deduction and only be taxed on $25,950. The new law completely does away with the personal exemption. Now, without considering other deductions, that $30,000 you made is taxed at the full amount.
Raising the standard deduction substantially. For example, the standard deduction for single taxpayers went from $6,350 in 2017 to $12,000 under the new law.
Shifting of individual income tax brackets. Most people are getting tax breaks. Of the seven tax brackets, five brackets have tax rate reductions and two remain the same.
Filing Single Tax Bracket

2017

2018

1

$0-$9,325

10%
$0-$9,525
10%
Same

2

$9,326-$37,950

15%
$9,526-$38,700
12%
Lower

3

$37,951-$91,900

25%
$38,701-$82,500
22%
Lower

4

$91,901-$191,650

28%
$82,501-$157,500
24%
Lower

5

$191,651-$416,700

33%
$157,501-$200,000
32%
Lower

6

$416,701-$418,400

35%
$200,001-$500,000
35%
Same

7

Over $418,401

40%
Over $500,000
37%
Lower
Introduction of a flat 21 percent corporate tax rate. This constitutes a tax cut for any business with income greater than $50,000, and a tax increase for businesses with income less than $50,000.
Increasing the 50% first-year bonus depreciation to 100%. This will apply to qualified property acquired and placed in service after September 27, 2017, and before January 1, 2023. The deduction for Section 179 is taken before any bonus depreciation, and any deduction for bonus depreciation is taken before the regular depreciation is recalculated.
Reduction of people paying the Alternative Minimum Tax (AMT). The AMT exemptions for individuals were increased to reduce the amount of people subject to the AMT.
There are also changes coming to
Several major tax credits
Depreciation and amortization
Estate tax
Gift tax
Nonrecognition transactions
Entertainment expenses
Net Operating Loss
Maximum deduction for Sec. 179 property
Taxable year of inclusion
Cash method of accounting
Inventory accounting
Many other areas that affect REG.
Should I Take REG Before or After the Changes?
Before. There's no question. Take REG before the new tax law becomes testable. There are several reasons why you should make it your plan to take REG before 2019.
If you're a student or recent graduate, you have been studying the current tax laws for the past three years. The TCJA has been law for less than six months, so tax experts have barely had time to understand it, much less teach it to students. As a student, you have the option of studying tax laws you already know. Chances are that you'll not only feel more comfortable with the current content, but you may also need to study less if you sit for REG this year.
If you're working in the accounting industry, you're definitely going to be most familiar with the current tax laws. You may be learning about the new law to stay up to date, but odds are you won't have a deep understanding of the TCJA for some time. Tax forms for the new law aren't out yet, so getting a comprehensive grasp on all the changes will be a unique challenge.
Despite claims that the TCJA will make taxes easier, the law actually makes most things more complicated for CPAs. Since the law incentivizes the standard deduction, individual returns might be simpler. But it definitely makes the remaining parts of the tax code more complicated, such as the 1120s.
One objection you may have to taking REG before the changes become testable is that you will eventually need to know all these new rules anyway, especially if you plan to be a tax accountant. While this is true, you shouldn't wait and take the updated REG. At the end of the day, your goal is to become a CPA, and the shortest path to achieving your certification is passing each section the first time. Your chances of doing that on REG are much higher if you take the exam covering the law you're most familiar with. And you can always take CPE to learn the new rules after you're a CPA.
All the evidence points to one conclusion: take REG before these changes become testable January 1, 2019.
How Do I Get Prepared in Time?
Step 1: Sign up to sit for REG any date on or before December 10, 2018. Submit your application for your NTS as soon as possible – first time applicants may have to wait as long as two months to get their NTS after applying
Step 2: Begin studying ten weeks before your scheduled exam session. That means the latest you should begin studying is October 1.
Step 3: Study approximately 15 hours per week using the Gleim Premium CPA Review System with SmartAdaptTM
Step 5: Move on to the next section (or celebrate being done!)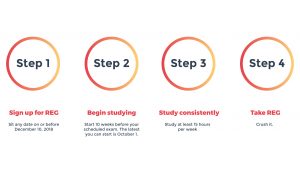 How Do I Make Sure I Pass?
One of the most important things you can do to pass REG in time is pick up a course from an efficient and effective review provider. Gleim has been guiding candidates through every exam change since 1974, including the infamous Tax Reform Act of 1986. We know how to maximize your chance of success. Choose Gleim CPA Review and our SmartAdaptTM technology will get you ready to pass REG before the new tax law becomes testable in 2019. Check out our free exam guide and learn everything you need to start tackling REG today.