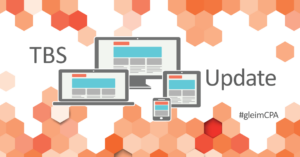 Gleim CPA Review has great news!
We recently overhauled our CPA Task Based Simulation (TBS) module and added benefits for customers currently utilizing our online CPA prep course.
Expanded Compatibility and Increased Speed
Some of the highlights of our TBS renovation include
Simulations working in the Chrome browser as well as previously supported browsers like Internet Explorer 9+ and Firefox.
Simulations no longer requiring Java, so you don't need to keep Java updated to use simulations in your course.
Simulations loading faster.
Enhanced Exam Emulation
The authentic emulation of the real AICPA CPA Exam always has been and always will be one of our top priorities for our online courses. Recently, the AICPA changed the CPA Exam interface screens, and we have adopted these same changes into our simulations. We modified the tool bar, implemented the modern design, and more in order to accurately mimic the AICPA's revisions.
Mobile-Friendly Modifications
All simulations now have full functionality on mobile devices such as tablets and smart phones. This convenient feature enables candidates to study on the go and stay on track with their study schedule wherever they are.
Though we have updated our course for mobile convenience, we continue to recommend that candidates conduct simulation practice on a desktop or laptop computer with a mouse as much as possible because the CPA Exam does not involve any touch screen devices.
Continued Simulation Support
Gleim CPA Review hopes that this transition to the new simulations is effortless and enjoyable for all of our CPA customers. However, if you experience any issues or would like to suggest further improvements to our simulations, please contact support@gleim.com.