Determining when to take the CPA Exam is one of the most important decisions you must make in your pursuit of the Certified Public Accountant certification. The AICPA requires CPA candidates to pass all four sections of the CPA Exam (AUD, BEC, FAR, and, REG) within a rolling 18-month period, so timing is everything. Where you are in the course of your studies or career can play a big role in your preparation, so we'll discuss these considerations and more to help you decide when to take the CPA Exam.
When Should I Take the CPA Exam if I Haven't Graduated Yet?
For students, we recommend sitting for the exam as soon as your state board allows you. The education requirement for the CPA license is 150 semester hours of formal education, but most CPA state boards of accountancy will allow you to sit for the CPA Exam after completing only 120 hours. States also require you to complete certain accounting courses pertaining to the exam (e.g., auditing, taxation, etc.). The state boards are doing their part to make sure you're prepared to take the test, so you should sit for the CPA Exam as soon as your state board will allow it and as soon as you have found the right CPA review course for you.
If you're in a graduate program or a 5-year undergraduate-MAcc combination program, try to take the exam as soon as you fulfill the requirements to sit. If your state board will allow you to sit after you've earned 120 credit hours, you should get the CPA Exam process started even before you graduate so you're ready when the time comes. It will probably take a year to acquire the last 30 credits you need to be fully certified (in most states), and passing all four exam sections will probably take you six months to a year. Completing the exam before graduating will provide opportunities for you to transition directly from school to fulfilling your experience requirement.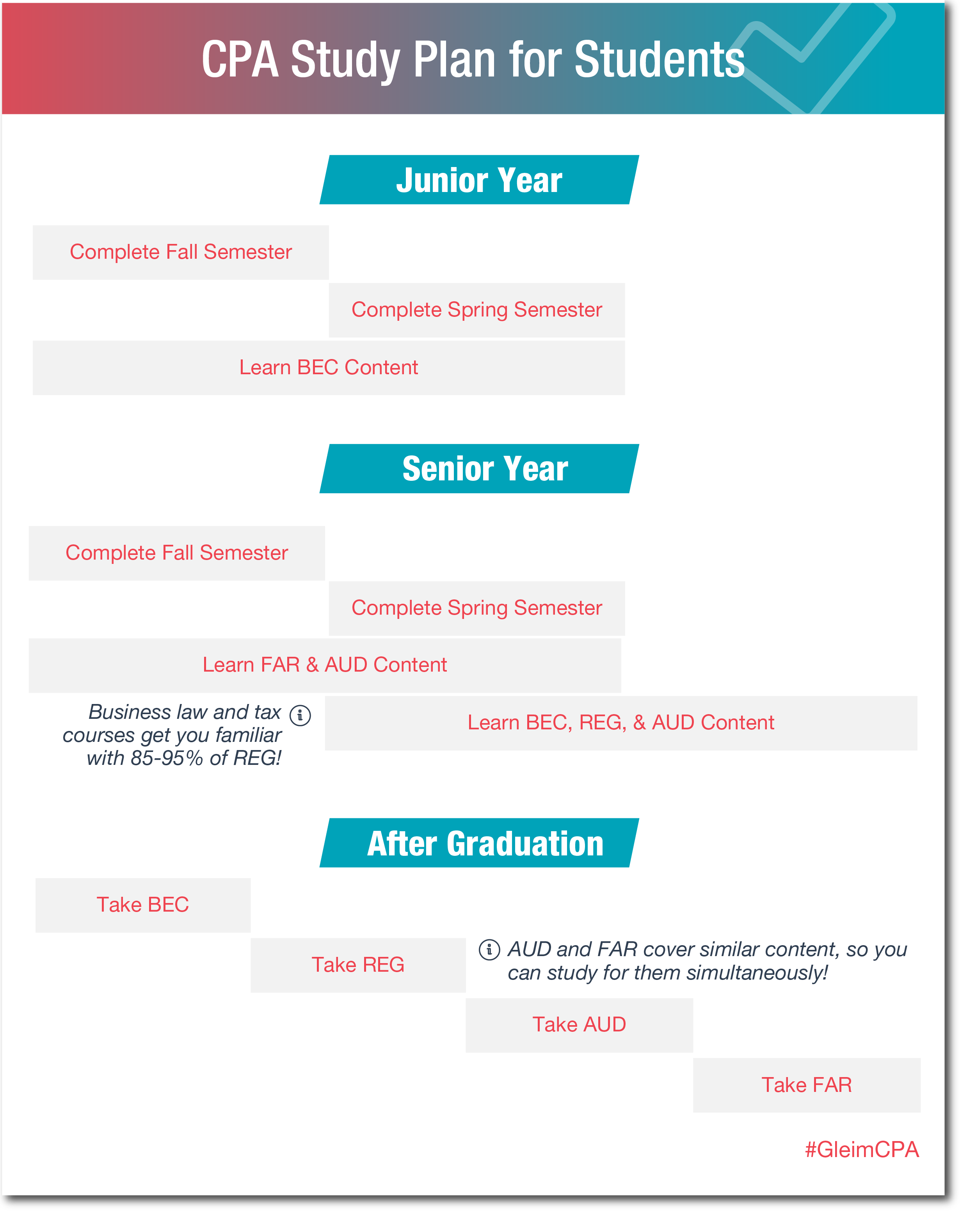 Remember: if you sit for the exam while you're still in school, you'll still be in study mode. The student mindset will help you create and stick to your study plan. It can be hard to get back into the swing of studying if you haven't done it for a few years.
What if I Have Graduated?
If you are not in school and have already fulfilled the education requirement for certification, there is a different set of factors to consider. But the fact remains: You should take the exam as soon as possible.
If you're a working professional, studying is going to be challenging; reviewing for the CPA Exam is almost a full-time job in itself. But the sooner you get your certification, the more years you have to reap its many benefits. It will take you longer to pass all four sections than it would take someone who sat prior to graduation, and that's okay. However, getting certified is absolutely possible if you are dedicated and disciplined.
A good (but busy) time to sit for the exam is when you are in the process of fulfilling your experience requirement. In order to get certified, most states require you to have two years of accounting experience. Studying for the CPA Exam pairs well with this mandatory real-world experience. You'll be actively exercising your knowledge and acquiring new skills. Depending on your responsibilities, your job can help prepare you to take one or more sections. If you find yourself in this situation while pursuing your CPA certification, start studying and apply what you review to your work.
If you already have the education and the experience, it's time to make a plan! The sooner you're able to take and pass the CPA Exam, the sooner you will begin to receive the benefits it brings to your professional life. Remember, you must pass all four sections of the exam within an 18-month rolling window, so plan your time carefully. You don't want to get caught studying for the CPA Exam during busy season, and you don't want to lose credit for and have to retake any sections you've already passed.
There are a number of strategies you can use to pass the exam on time. For example, some candidates benefit from tackling the hardest section first so they have plenty of time to study. The 18-month timer doesn't start until you pass your first exam section, so getting the section you find hardest out of the way has its merits. It's much easier to race downhill!
How Should You Start Preparing to Take the CPA Exam?
Gleim is more than just the world's best CPA review course provider: we are a team of experts ready to support you through every step of the exam process. When you choose Gleim, you are paired with a Personal Counselor who will help you set up your exam study schedule and provide guidance and motivation on your journey. Then, our signature comprehensive content coverage will ensure you pass the first time.  For more information about the CPA Exam and how Gleim can help you pass, check out our free CPA Exam Guide.