Right before the new 2018 CPA Exam blueprints launched, the AICPA released the final set of CPA exam pass rates from the old CPA Exam. The numbers show that the CPA Exam received some of it's highest pass rates since the AICPA began publishing them online in 2006. In Q2 of this year, we saw the highest average CPA Exam pass rate ever: 55%. On top of that, every section except FAR reported their highest pass rates ever.
Now the data is in for Q3. We've updated our CPA Exam pass rates for 2018 in the chart below.
The latest passing data can help us understand how the new exam version will affect candidate performance, so we've also analyzed the 2018 passing percentages and compared them to pass rates from previous years and the 2017 pass rates.
Contents
2018 CPA Exam Pass Rate
Uniform CPA Examination Pass Rate 2018
| Section | First Quarter | Second Quarter | Third Quarter | Fourth Quarter | Cumulative |
| --- | --- | --- | --- | --- | --- |
| AUD | 49.27% | 54.70% | 51.07% | | 51.76% |
| BEC | 56.43% | 60.31% | 60.17% | | 59.07% |
| FAR | 41.59% | 49.17% | 48.85% | | 46.79% |
| REG | 49.99% | 55.75% | 56.55% | | 54.46% |
Observations about the 2018 CPA Exam Pass Rates
Notable observations about the latest 2018 CPA Exam pass rates include the following:
The Q3 2018 pass rate (51.07%) is:

1.08% lower than the AUD Q3 2017 pass rate
Lower than the AUD Q2 2018 pass rate by 3.63%
Higher than the highest yearly pass rate reported since 2006* (50% in 2009)
The Q3 2018 pass rate (60.17%) is:

4.82% higher than the BEC Q3 2017 pass rate
0.14% lower than the BEC Q2 2018 pass rate
Higher than the highest yearly pass rate reported since 2006* (56% in 2013)
The Q3 2018 pass rate (48.85%) is:

1.27% lower than the FAR Q3 2017 pass rate
0.32% lower than the FAR Q2 2018 pass rate
Lower than the highest yearly pass rate reported since 2006* (49.2% in 2008)
The Q3 2018 pass rate (56.55%) is:

0.8% higher than the REG Q2 2018 pass rate
7.24% higher than the REG Q3 2017 pass rate
The highest REG pass rate for any quarter since 2006*
* The AICPA's online records used to begin with the 2006 pass rates, so information for years prior to this date is unavailable.
Predictions about the 2018 CPA Exam Pass Rates
Pass rates tend to rise in Q2 and Q3. We saw record-high passing data in Q2, but Q3 numbers decreased slightly overall, except for REG.
Even though FAR's figures were historically low during Q1, it achieved one of its highest pass rates ever in Q2. In Q3, FAR scores shifted back down, though it decreased by only 0.8%.
The Q2 CPA Exam changes have improved the testing experience. In particular, the integration of Excel has made FAR's multiple-choice question calculations much smoother. This could be a contributing factor to the still-strong passing rates we're seeing.
Your 2018 CPA Exam Pass Rate
Though we've made our pass rate predictions for the year, we know that you shouldn't put a lot of faith in these numbers. Instead, you should trust in your own CPA Exam preparations, which can give you a passing CPA Exam score no matter the passing data. You can learn more about the CPA Exam and how to secure that passing score by accessing our free CPA Exam guide today!
CPA Exam Pass Rates (2006-2017)
The overall CPA Exam pass rate hovers between 45% and 50%, and pass rates for individual sections range from 42% (REG) to 60% (BEC). The overall pass rate has been declining since 2015, the year the exam hit its highest pass rate since the AICPA began reporting them online in 2006. Although, pass rates did skyrocket 2018 Q2.
The pass rate is trending lower, but it wasn't all that high to begin with. The CPA Exam is difficult for a reason. The certification is sought after because it is meaningful. It signals to employers and peers a certain caliber of professionalism. If the CPA Exam was easier, the market would be saturated with CPAs, many of whom would not be able to contribute at the highest level. The CPA Exam pass rate is something the AICPA is continuously monitoring to make sure accountants who earn the CPA embody its standard.
In 2017, the overall CPA pass rate was 48.31%. We'll talk about what constitutes that rate and why we may see a permanent bump in the future.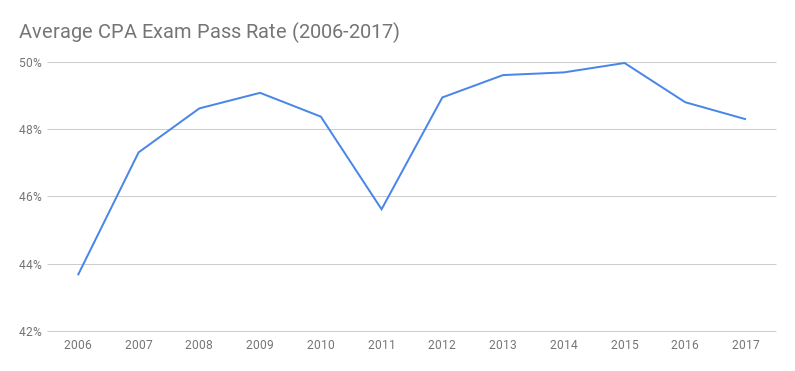 CPA Exam Pass Rates by Section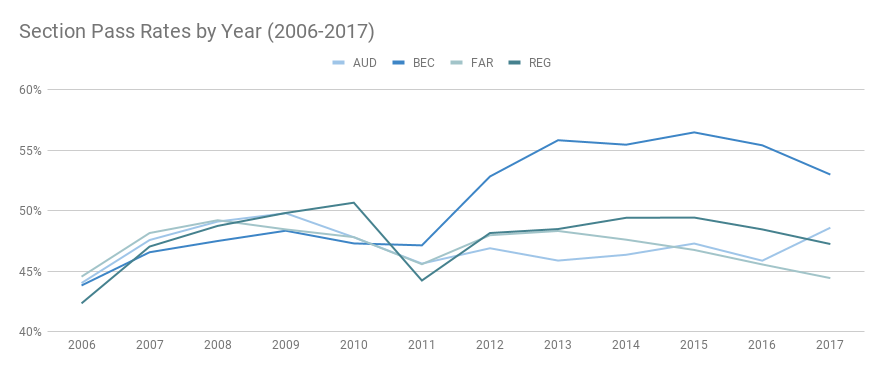 CPA candidates have always considered FAR to be one of the hardest sections on the exam. Since 2015, it has sported the lowest pass rates of all four sections. Studying for FAR involves understanding all the complicated ways just one transaction can impact multiple financial statements, which keeps pass rates around 45%. On the other end of the spectrum is BEC. Its pass rates have stayed close to 55% for about five years, but they appear to be falling.
Back in 2006, results for all four sections showed little variation. They have begun to vary more since 2011 due to the massive changes the CPA Exam went through that year. In fact, 2011 boasted the biggest changes since the test was computerized in 2004; that was when the AICPA introduced testing on IFRS and removed written communication tasks from every section but BEC.
REG is going through some major changes in 2019 thanks to the Tax Cuts and Jobs Act passed at the end of 2017. Since REG deals largely with tax codes, candidates will have a lot of new rules to memorize and apply to their accounting practice. We anticipate these changes will cause a temporary dip in REG pass rates.
Are Pass Rates Going Down?
There are a lot of factors that determine pass rates: how hard the exam is, how prepared candidates are, any changes the exam is undergoing, etc. Also, recorded pass rates for the CPA Exam only go back to 2006, meaning we just don't have enough historical data to say for sure where pass rates will go.
The AICPA has said pass rates stay low because they are protecting the public by ensuring CPAs are competent. With that said, the AICPA does have another incentive. When pass rates are low, the CPA certification stays prestigious. Passing the AICPA's rigorous test demonstrates that you have really overcome a tough obstacle, and that makes those three letters after your name more valuable.
The Best Quarter to Take the CPA Exam
CPA Exam pass rates experience seasonal fluctuation. Check out the chart below. See how the pass rates rise and fall like mountains? The highs and lows always occur in the same testing windows. The "peaks" of pass rates occur during Quarter 3 (Q3), followed closely by Q2, and the "valleys" occur during Q1 and Q4.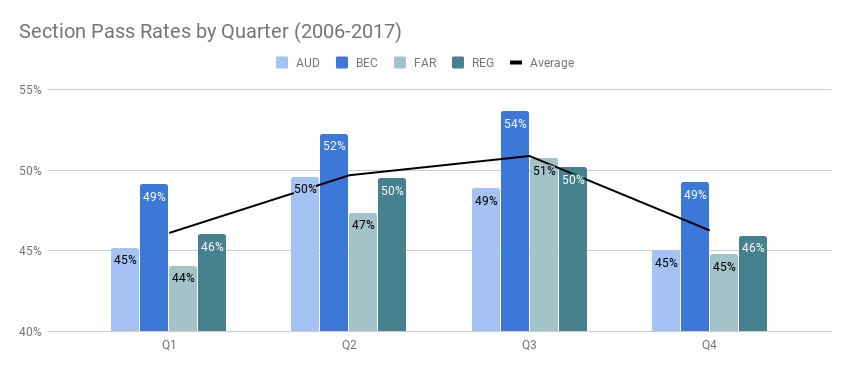 Let's try to figure out why this happens.
Busy season for tax accountants is from January-April, and 80% of that time falls within Q1 (January-March). People who work full-time probably find it hard to keep up with studying, so it falls by the wayside. Pair this with the fact that Q1 comes right after the holiday season, another time candidates probably find poorly suited for studying, and fewer people end up passing.
Q2 (April-May) is the first chance most college graduates have to take an exam section. They don't have much time to study immediately after classes end, so most likely they have been studying while classes were in session. While they do pass at a relatively high rate, they are not prepared to do as well as their peers who wait.
Q3 (July-September) is a perfect time for college graduates to take a section of the exam. Students who graduate in May have all summer to study for the next section. There are very few holidays during that time, and many students probably want to finish so they don't have to study during the holidays later in the year. This sets them up to do very well when they sit in Q3.
Q4 (October-December) pass rates could be low due to the holiday season, much like Q1.
These explanations are all conjecture. Still, walking through this reasoning is important because there are critical factors for candidates to consider outside of the exam itself. While passing still depends largely on how well prepared you are, you should still be aware of the way your environment affects you, and craft your study plan in a way that gives you every possible advantage. Are you someone who, no matter how hard you try, will never get work done over the holiday season? Consider that when scheduling your exam.
Join the Elite Few Who Pass
There's no question: passing the exam is hard. We recently witnessed a bump in pass rates, likely due in part to the user experience improvements made by the AICPA at the beginning of 2018 Q2. Since Q3 pass rates are typically a little higher than Q2, we may see even higher figures when the Q3 pass rates are released. These user experience improvement could just mean pass rates will permanently be a little higher than they used to be. Or, the AICPA could correct the pass rates by increasing the difficulty of the CPA Exam, to parallel the increasingly complex world of public accounting. The best thing you can do to ensure your success is to have a solid review provider by your side when you sit for the exam. Each candidate who chooses to study with Gleim is assigned a Personal Counselor from our team of exam experts who will walk him or her through each step of the exam process. Pass rates may fluctuate, but prepared candidates still pass. Test yourself with our free CPA Exam questions to find out where you stand.