The Business Environment and Concepts (BEC) section of the CPA Exam definitely stands out from the other three. BEC is unique for including Written Communications (WCs) as one of its question types along with the usual multiple-choice questions (MCQs) and task-based simulations (TBSs). We'll show you how this additional question type affects content coverage, question counts, difficulty levels, structure, and more, so you can prioritize your BEC studies. We'll also introduce the testing process as well as best time-management practices, ensuring you a smooth transition from practice exam to exam day. Finally, we'll discuss a few other BEC exam basics, and when you're ready, you can follow these BEC tips to prepare to pass this section.
Content
BEC assesses your comprehension of a CPA's responsibilities and professional duties by covering these five content areas:
Content
| Content | Percentage |
| --- | --- |
| Corporate Governance | 17-27% |
| Economic Concepts and Analysis | 17-27% |
| Financial Management | 11-21% |
| Information Technology | 15-25% |
| Operations Management | 15-25% |
Skill Levels
The CPA Exam tests candidates for distinct skill sets, which affect the difficulty of each exam section.
BEC Exam Skill Levels
(Highest to Lowest)
| Skill Level | Description |
| --- | --- |
| Analysis | The examination and study of the interrelationships of separate areas in order to identify causes and find evidence to support inferences. |
| Application | The use or demonstration of knowledge, concepts, or techniques. |
| Remembering and Understanding | The perception and comprehension of the significance of an area utilizing knowledge gained. |
Each skill level builds upon the preceding one. As the table below shows, BEC focuses heavily on Application and Analysis.
BEC CPA Exam Skill Allocation
| Skill Allocation | Weight |
| --- | --- |
| Analysis | 20-30% |
| Application | 50-60% |
| Remembering and Understanding | 15-25% |
Format and Structure
BEC involves five testlets: two MCQs, two TBSs, and one WC. The MCQ testlets account for 50% of your BEC score, the TBS testlets contribute 35%, and the WC testlet supplies the remaining 15%.
BEC Question Format
| Question Type | Operational | Pretest | Total |
| --- | --- | --- | --- |
| MCQs | 50 | 12 | 62 |
| TBSs | 3 | 1 | 4 |
| WCs | 2 | 1 | 3 |
When you take the BEC CPA Exam section, you will answer both operational and pre-test questions, but only your answers for the operational questions will count toward your total exam score. Pre-test questions simply supply candidate performance data that inform the AICPA's decisions about making these questions operational on future exam iterations. Don't try to distinguish between these questions, because you can't. Just answer every exam question as well as you can, and remember that some of the more difficult ones may be pre-test. Knowing this, you can give those questions your best effort and move on.
Time Management
Total testing time for BEC is the same as that of the other three sections: four hours. You can effectively manage your BEC testing time by following this CPA Exam time management system.
Time Management System
Testlet

Format

Question Count

Time (in minutes)

1

MCQ

31

38*

2

MCQ

31

38*

3

TBS

2

36

15 minute break

(does not count toward total exam time)

4

TBS

2

36

5

WCs

3

75

Extra Time

17

Total

62 MCQs / 4 TBSs / 3 WCs

240
*rounded down
Stick to this schedule by applying these time limits per exam question:
MCQs: 1.25 minutes
TBSs: 18 minutes
WCs: 25 minutes
As you can see, this system allots 17 minutes to use at your discretion. You can spend it polishing your WC responses or reviewing your MCQ and TBS answers. Just remember, you can't revisit any previously submitted testlets, so only use the banked time if you need it.
Staying on pace is tricky at first, especially with MCQs, but you'll get there with practice. You could fail if you don't answer every question, so prioritize adhering to your schedule over ensuring that one of your answers is right.
Testing Process
On BEC, AUD, FAR, and REG, the difficulty of the MCQs can vary from question to question, and also from testlet to testlet. The average difficulty of MCQs in the first BEC testlet is "medium." If you answer these questions well, the second testlet will introduce more "difficult" questions. If you don't, the second testlet will also contain questions of medium difficulty.
Because the difficulty assigned to each testlet is based on the average difficulty of the MCQs, expect a few questions to give you pause, even in a medium testlet. Be ready to flag any confusing questions that stump you and come back to them once you've finished the rest of the testlet.

TBS and WC testlets are pre-selected, so their difficulty is the same no matter how you perform.
Grading Process
As with the other three exam sections, you must score a 75 or higher to pass BEC. That's 75 points, not percent. Your score is scaled according to the difficulty of MCQs answered and the weights of the different types of testlets.
MCQs, TBSs, and WCs are graded electronically; however, operational WCs may be reviewed and regraded by human scorers if a candidate's score is very close to 75. The human grading process can push the release of your BEC score back by a week or so.
Your WC responses are graded according to technical content and writing quality. Technical content should include information that is helpful and relevant, but because a non-CPA may grade your WCs, "helpful and relevant" may be fairly broadly defined. The actual writing is assessed for expression, development, and organization as defined by the AICPA.
Expression: grammar, punctuation, spelling, and word usage.
Development: level of detail, examples given, and terms defined.
Organization: the use of a thesis sentence, transitions, and unified paragraphs as well as the overall logical progression of your response.
When you study for BEC, practice writing your WC responses and follow the rest of these BEC written communication tips.
Pass Rates
BEC had some of the lowest CPA Exam pass rates from 2008 to 2010, but in 2011, BEC took a turn for the better and has since had the highest pass rate every quarter for seven years, and is on track to have the highest pass rates in 2018 as well.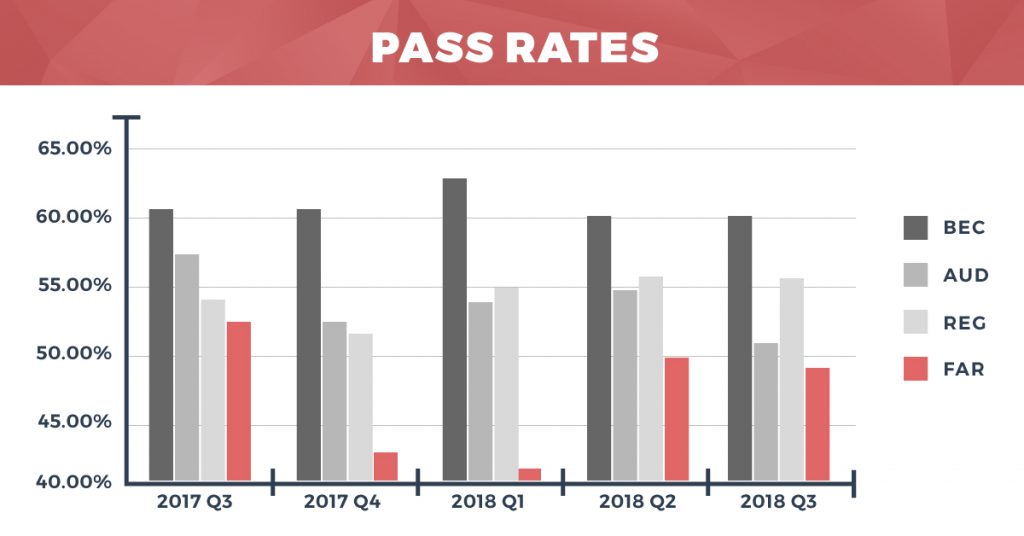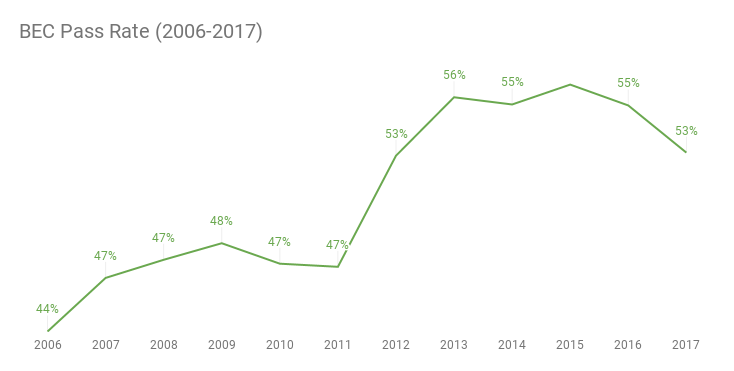 Since 2006, BEC's lowest pass rate has been 41.8% (Q1 2006), and its highest pass rate has been 60.3% (Q2 2018), having dropped by only 0.14% in Q3 2018. These are the BEC pass rates compared to the other exam sections in the past year.
Difficulty
With such high pass rates, BEC is now considered the least challenging section of the exam. Recently, FAR has been considered the hardest, while AUD and REG have had their highs and lows.
Some candidates take a look at the BEC pass rates and decide to put it first in their CPA Exam schedule, which can be beneficial. Starting the exam with the section that boasts the highest pass rates could give you a quick pass and the confidence boost you want to initiate your exam journey.
However, there are reasons to wait to take BEC. The WCs often draw on content from AUD, FAR, and REG, so you may find BEC even easier to pass if you leave it for last.
Passing BEC
Though BEC may not seem so bad compared to the other exam sections, it still requires a great deal of study time, as it covers a large amount of material and features three different types of questions.
Thankfully, Gleim CPA Review has more high-quality questions than any other course, and they're all accompanied by detailed answer explanations that you can use to learn from your mistakes. Our BEC course even walks you through the process of self-grading your WC responses so you can ensure your writing is CPA-ready by exam day. Our CPA exam prep also features more content coverage than any other course, and our SmartAdaptTM technology tells you what to study so you can target your weak areas, master every concept, and pass BEC faster.
You've learned all about the BEC section, but don't leave the rest of the CPA Exam behind. Access our free CPA Exam guide today for all the exam details!